Now that you've seen EnderWiggin.net's exclusive reveal of the official Salamander Army logo, as well as the logos for Dragon, Rat, and Asp armies, it's time to show you why that was just a teaser for today's reveal. (make sure you enter to win a set of Ender's Game army magnets or pin buttons HERE)
I'm very happy to be one of four fansites revealing the second official still from the Ender's Game movie, which, as of today, is 253 days from release. This new still is chock full of amazing new content for fans who have been dying for more since December, when we got our first look at Colonel Graff staring down young Ender Wiggin.
Without further ado, here is a first look at the Battle School mess hall with Salamander Army: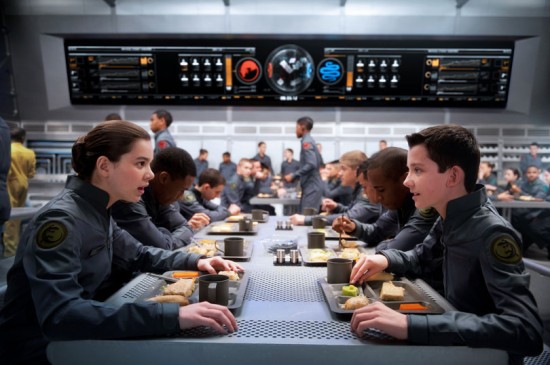 Not only do we see Asa Butterfield as Ender Wiggin again, you get your first look at Hailee Steinfeld as Petra Arkanian (left), Khylin Rhambo as Dink Meeker (right, next to Ender), and Moises Arias as Bonzo Madrid (end of the table on the left). Since there's a whole lot more going on besides these four characters (see the Battle Room sphere on the board!?), be sure read my still breakdown article coming later today.
In the meantime, I get to dish a little bit more about our visit to the set last year.
We'd been given a list of people we might be seeing and Asa Butterfield, Hailee Steinfeld, and director Gavin Hood's names practically screamed themselves from my laptop. I was pretty pumped. We'd also be talking to Conor Carroll (Bernard), Khylin Rhambo (Dink), Aramis Knight (Bean), and Suraj Partha (Alai).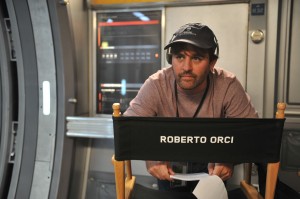 I went into the set visit expecting to see and speak to these seven people, which made me unprepared for all the other people we got to spend time with that day. One of the first surprises of the day was when we were introduced to producer Roberto Orci, which almost made my head explode.
I'd only seen photos of him and hadn't a clue he'd be there on the set, much less that we'd be spending the day with him. And while it sounds odd to be a "fan" of a movie producer, you have to keep in mind that I'm a huge fan of things like LOST, Fringe, the Star Trek reboots, the Hawaii Five-O reboot, all of which he's produced or written. I see his name everywhere. And since I have a young son, I've seen or been forced to listen to the Transformers movies at least two dozen times which, again, he wrote.
We were in a room whose walls were covered in concept art and storyboards and I almost felt like I should avert my eyes because I'm so used to not seeing such things until a DVD release. A presentation began and we met several producers from Odd Lot Entertainment.
They told us so much in that first hour and a half that I admit I was confused. I'd never expected them to be so open and passionate about the movie, rivaling us fansites. It was like sitting in a room with fans who were 10 times the fans you were. It was humbling to say the least.

After the presentation, they took us on a set tour that included the Launchie barracks that we saw in the first still, Ender's private quarters, and the infirmary. We were taken to the video village where we saw some scenes being filmed. Garrett Warren, the film's stunt coordinator came by to talk to us and was so fun to meet.
We headed over to interview the very well-spoken and lovely Hailee Steinfeld, a very intense but also very nice Asa Butterfield, and director Gavin Hood. While it was amazing to interview the young actors who would be playing Ender and Petra, it was eye-opening to talk to Gavin Hood. It was immediately plain to us that he's a huge fan of the book and after talking to him, I personally felt like the film was in great hands with him.
Having been a fan of Game of Thrones for over ten years, it was surreal when the monstrously large Nonso Anozie (Sergeant Dap in Ender's Game and Xaro Xhoan Daxos in Thrones) walked– or rather, hunched over — to get into the room. Getting to then discuss movies and Pop Tarts with him was just amazing. We met a lot of the Battle School cadets, including Bean, who all seemed to be great kids who were huge fans of the novel and extremely excited to be a part of the film.
Our tour continued after lunch with a meeting with costume designer Christine Bieselin-Clark, who actually let us touch the flash suits. Nerd out!
We continued on to the props department, which was really cool because even that guy could bring up scenes from the book as if it was nothing. We then talked to set designers Ben Procter and Sean Haworth, who immediately passed our now standard Did-You-Read-Ender's-Game Test. We were back to sitting in the Launchie barracks again and with that scenery around us, I think the sole question in all of our minds was just, "How do you build something like this from the ground up?" It was a continual thought in my mind as we walked through the Battle School and Eros sets.
And with that, yes, we did get to walk around on Eros. We were actually very fortunate in that they were at the point of production where they were filming Ender's final battle scene. We stood on that set and I had to resist the urge to turn to my fellow tourists and shake them senseless in excitement. All I will say at this point is that the finale scene that I'd imagined seemed like a shriveled raisin compared to what they had in production.
As if that wasn't enough, towards the end of our day, they told us they were able to get us 10 minutes with Sir Ben Kingsley. Let me tell you, sitting in a dark Formic room frantically trying to think of questions to ask a knighted actor is a whole lot of pressure.
Those of you that have been reading my site for a while have probably wondered why I seem so on board with the film despite some the changes (which are inevitable with a book to film adaptation). Hopefully this gives you a better idea of why. Everyone we met from the crew to the actors to the producers were all fans of the book and were all so excited to be working on the movie.
As you've probably noticed, I've left out specific details and quotes, as that's all still to come as we approach the movie's release come November 1st.
To stay up to date with all the latest news about the movie, the actors, and upcoming book releases in the Enderverse, be sure to follow EnderWiggin.net, available on the following social media networks:
If you've been looking for an Ender's Game podcast, be sure to check out the podcast EnderCast, which I co-host with Kelly from Ender News.