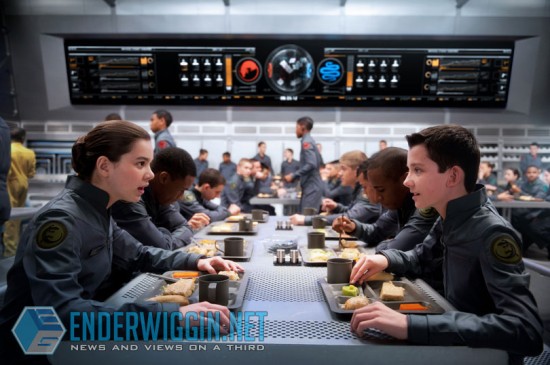 Last week, EnderWiggin.net was one of four fansites that got to reveal the second still from the Ender's Game movie and with that image came a whole lot of talk about the food they had in front of them. Since I have an entire blog devoted to food from books, tv shows, games, and movies, it was inevitable that I give the Battle School food a try. And boy was it a hassle!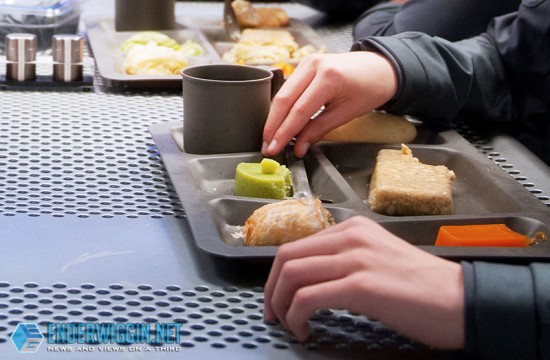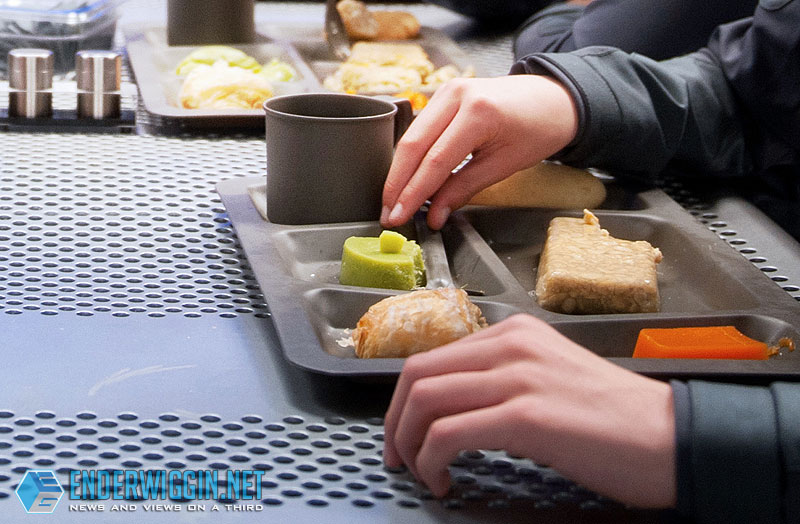 As soon as I got my hands on the still, I went looking online and was shocked at how easy it was to find the same mess tray in the still, easily available on Amazon. It's shinier than in the still, but really, I wasn't going to kick up too much fuss about it. It was clearly the same tray and that was all that mattered.
I knew I wanted to cook this, but didn't realize just how much effort it was going to require until I started. It's FIVE separate dishes to make! That's a lot of food.
Before I get into it though, I wanted to mention that Ender News is holding a contest where you make your own Battle School food. I will be a guest judge for the contest, which ends March 6 at midnight. Be sure to give it a go!
First up: carrot jello.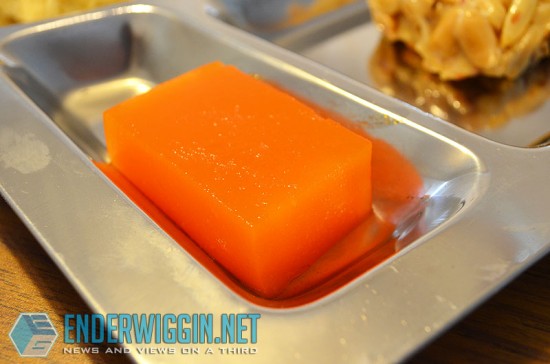 I know, nasty right? Normally for Fictional Food I go for as much realism as I can, but ended up taking a bit of a shortcut with this one. I started by peeling and boiling one carrot, then liquefied it with some water in my blender. I boiled 1 cup of water, added it to a packet of apricot jello, then poured the carrot puree in. I put it in a container and chilled it in the fridge.
The result was just what I'd wanted! And the best part is, it just tastes like apricot jello. You can't even taste the carrot. Although, I admit I only tried one small corner. I will be feeding it to my children for dessert tonight and we'll see what they say. Muahahaha!
Next up, the little turnover dessert.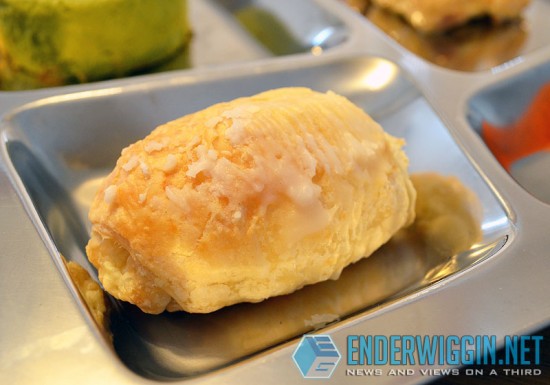 I bought a package of puff pastry and made myself some apple pie filling with diced apples (not sliced) and simply rolled up little rectangle turnovers, baked them at 400 degrees F for 20 minutes, and then brushed it with a sugar glaze. They were really yummy! The downside was I totally burned my tongue eating a hot one.
This next one is the grossest of the bunch.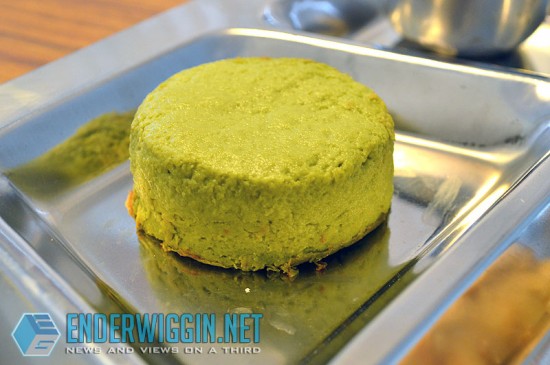 Even though Khy Rhambo said that it was pea gelatin, I thought I'd try making a pea quiche. I couldn't find any recipes, so I just looked up a basic quiche recipe and flung stuff into my blender and baked the result. It's pretty nasty, tasting exactly like overcooked canned peas. (no surprise there, since I used a can of overcooked peas) It looked terrible, so I just took a butter knife and smoothed it over.
If I were to try it again, I'd try the gelatin route and use fresh peas so that I didn't have to deal with the yucky dead pea color. Somehow I don't know if that would help the taste.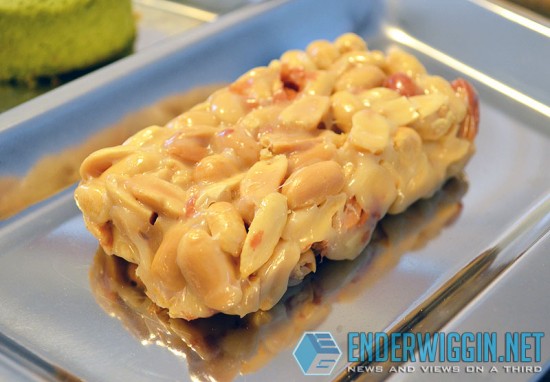 Like the peas, I didn't want to go with peanut gelatin because I actually wanted to be able to eat this one because, well, turns out peanuts are really expensive. As of right now, I've only been able to eat half of it because it fell into my stomach like a ton of bricks. I melted butter and marshmallows together, then added unsalted peanuts.
I should have taken the time to take the paper shells off of the other peanuts, but by the time I realized some of them had skins on, I'd already just thrown them in. I pressed it into a mini meat loaf pan I'd greased with shortening and let it cool. It tastes great, but it's also like shoving a handful of peanuts and marshmallows into your mouth. I suggest sharing one with a friend or two.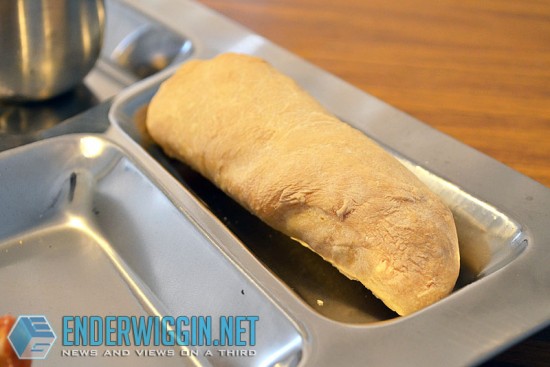 For the bread, I made some ciabatta dough and baked little mini loaves that fit the tray. It tasted great the day I baked it but it's now rock hard. The final full tray of food: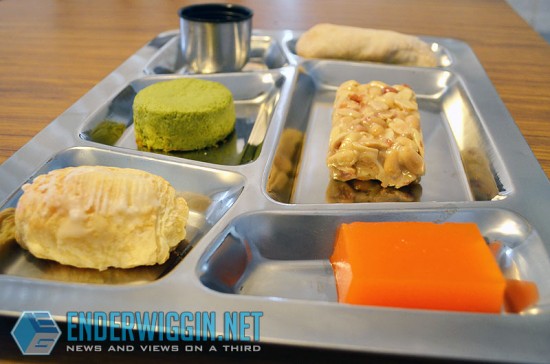 Not a bad attempt if I do say so myself. I'm dumping the pea quiches (I made 3) because they're awful, but am definitely eating the turnovers and Jello. My hips have had enough peanut bars and I'll be giving those to my son. The bread will be given to our backyard chickens. Hopefully it doesn't crack their beaks or anything…
And there you have it, Launchies! A tray of Battle School food just like the soldiers are eating in the still. I admit I couldn't find a cup like they had, so I just lamely added a metal thermos top. If you try any of these, be sure to let me know!
Orange Battle School Jello
1 box apricot gelatin

1 large carrot, peeled and coarsely chopped
Knox
water
Boil the carrot pieces until soft. Drain the water, leaving about 1/2 cup and move to a blender. Liquefy the carrot until you have a smooth puree. Set aside to cool.

Boil 1 cup of water. Add the gelatin to a medium bowl and then pour the water in.
Sprinkle about 1 teaspoon of Knox onto your carrot puree and let it sit for a minute. Pour the hot gelatin into the puree and mix well.
Pour the carrot and gelatin mixture into a container, cover, and refrigerate until set.
Battle School Apple Turnovers
2 sheets puff pastry

1 Granny Smith apple, peeled, cored, and chopped
1/2 Tb butter
1/4 cup brown sugar
1/4 tsp cinnamon
1/4 Tb cornstarch
1/4 Tb water
1 egg
1/2 cup confectioner's sugar
Defrost your puff pastry by placing it on the counter. It should be ready to roll in about 45 minutes, so you can take your time with the apples.

Add the butter to a skillet, then add the apples. Cook for a few minutes, then add the brown sugar and cinnamon, mixing well and cooking the apples.
Mix together the cornstarch and water and add to the apple mixture. Cook on low to medium heat until apples are soft and glaze is thick. Remove from heat.
Preheat oven to 400 degrees F.
Unfold puff pastry sheets and cut into three long sections on the folds. Cut each of these sections in half for rectangles.
Add a bit of the apple mixture in the middle of one end and fold it over, pressing down the sides so the apple doesn't seep out during baking.
Scramble the egg and add about 1 Tb of water to make an egg wash. Brush over the top of each pastry, then place them on a baking sheet. Bake for 20 minutes.
When you have five minutes left, make the glaze. In a small pot, mix 1/2 cup of confectioner's sugar with 2 tsp of water. Stir frequently until evenly mixed and cook on low heat until thickened. Do NOT leave unattended. When pastries are done, remove from oven and brush the glaze over the tops.
Battle School Pea Quiche
Not for the faint of heart
1 can of cooked peas

1/4 cup milk
1 egg
small handful of mozzarella cheese
Pre-heat oven to 425 degrees F.
Grease 3 small ramekins very well.
Blend together all ingredients until you have a very fine puree. Add to ramekins.
Bake for 15 minutes, then reduce oven temperature to 350 degrees F. Bake for 20 more minutes.
To remove, gently skim a butter knife around the edges, then turn upside down and gently tap out of the ramekin.
Sniff warily and eat at own risk.
Battle School Energy Bars
This recipe is more of a make as you go kind of thing. I didn't really measure, just threw more in as I went until the consistency looked right.
butter

marshmallows
peanuts
Melt around 1 Tb of butter in a small pot or pan. Add 1-2 cups of mini marshmallows. Melt down completely until you have a good sticky mixture.

Add peanuts as needed. I used maybe 1 cup. Mix well together.
Generously grease a mini loaf pan and press the peanut mixture in, making sure you don't burn your fingers.
Let cool. To remove, ease a butter knife into an edge and pry out carefully.
I haven't included the bread recipe as I simply picked a random ciabatta recipe online and I can't remember which one it was! Hope you guys enjoyed this. Happy eating!