This morning brings to us the first official still from next year's film adaptation Ender's Game, brought to us exclusively by Entertainment Weekly.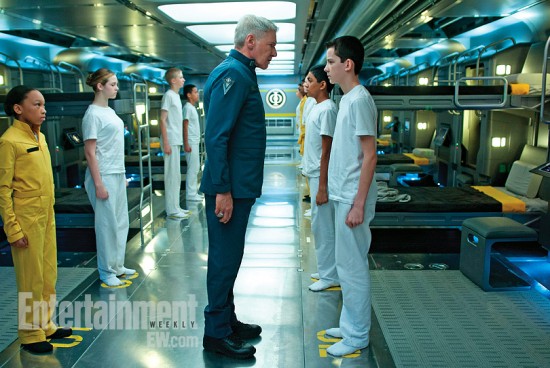 The still, which shows child military genius Ender Wiggin (Asa Butterfield) with Colonel Hyrum Graff (Harrison Ford), is from the barracks at Battle School in space, where Ender is in training with the International Fleet among the world's brightest young soldiers.
In the background, you can see the insignia for the International Fleet as well as their beds, no doubt a cold contrast to what they've just left at home. Alai (Suraj Partha) stands next to Ender. Behind Graff there's a female cadet and several unidentified cast members (most likely background).
In the photo above, we get a first glimpse of Hugo's Asa Butterfield (right) as Ender, standing in line with other new recruits (a.k.a. "Launchies") early on at his time in the Battle School. He's facing off with the imposing Colonel Graff (Harrison Ford, center) over whether his emails to home are being blocked. It's telling that the two characters are clashing over communication, since they've got major communication issues with each other. In the novel, Ender could never be sure whether Graff was manipulating him, or whether he simply saw great potential in him and wanted to foster it.

The actors tried to mirror their characters' emotions. "The relationship between [Harrison] and Asa was very close," explains Hood, "but he didn't overly befriend him off the set. He helped Asa by allowing that slight sense of intimidation to be there." Getting intimidated by Indiana Jones himself? Sounds like a cinch! What was harder for the cast of children was filming the movie while going to school. "The kids have to attend school for at least three hours of class every day, plus do homework, so you can only shoot with someone like Asa for five hours of your day," says Hood. "There was no time for fooling about or not knowing your lines or being unprepared." To everyone's delight, Butterfield (along with every child actor) proved himself a true professional. "Asa being prepared meant that we could focus on the scenes, and these are complicated scenes for a young actor," says Hood.
Source: Full article at EW.com