You are reading Part 1 of a five-part Ender's Game set report series scheduled for the next week.
As of today, it's been 464 days since I was on the set of Ender's Game in New Orleans, Louisiana, staring up at vast green screens and sets in what can only be described as complete and utter awe. Never in the week leading up to that day had I imagined the place I ended up in.
I live in Hawaii, so when my journey began, I was put on a 10 hour direct flight from Honolulu to New Orleans. Seven hours into the flight I was ready to jump out of the plane, but consoled myself with thoughts about what was to come. I met Erin Gross from Ender's Game Fansite at the airport and we shared a cab to the hotel.
After checking into one of the most gorgeous hotels I'd ever been in, I looked out the window to check out my view, then relaxed until it was time for dinner with Erin. I'd already "known" her by name through our Hunger Games websites, but this was the first time we'd spent some serious time together. It was great to finally talk with someone doing the exact same things that I was doing and who also loved Ender's Game.
We met up with Kelly from Ender News, who would later become my podcasting partner in crime, and Cassandra from Ender's Ansible. After a bit of chit chat, we said good night. I tried to prep questions, tried not to get too excited about the next day, and tried the impossible task of falling asleep.
In the morning, we met in the lobby and found a group of other press that would be touring with us including journalists from HitFix, IGN, J-14, and Nerdist. We were given Ender's Game set badges (which I still have!) and hopped into a van to be driven out to Big Easy Studios at the old NASA Michoud Facility.
Once we got on site, we were taken to the production offices and lead into a conference room wallpapered in concept art and notes. I saw refreshments to the side including my weakness, strawberries, but I was too excited and almost too nauseated to eat. Bob Orci, the producer, was in the room. I'd had no idea he'd be there and being a big fan of a lot of his work, I was more than a little starstruck. Then we sat down and he and fellow producers Lynn Hendee and Linda McDonough proceeded to spew out everything I could have ever wanted to know about the movie they were making.
Ender's World
Although they hadn't yet taken us on a tour of anything, the initial producer's presentation was a gold mine of imagery. If you can recall how long we all have been analyzing and scrutinizing each of the stills and imagery that come out, imagine having 50 of those flash before your eyes in a matter of minutes. I had to force myself not to shriek, "STOP! Go back! I didn't stare at that one long enough!" Still, Bob Orci continued to flick through them one after another.
Even though I'm a longtime fan of Ender's Game, I admit I never put too much thought into the world that the Wiggins lived in on Earth. Judging from the still above, which Summit provided to us for this report, Ender lives near some type of metropolis. But while in the book, the Wiggins live in the city, that won't be the case with the film. The Wiggins in the film will live in a home closer to what you may have imagined Bean visits in Shadow of the Hegemon.
"We want[ed] what's happening on Earth to contrast to the technology of space. So many sci-fi novels present a dystopian future, kind of an ugly place, we wanted to present Ender's world as one worth saving, one that's become utopian in many ways." said Orci. He showed us a slide of a beautiful home with classic columns. "Just like the Vatican is alive and well the way it's been existing for the last five hundred years here, […] why wouldn't there be classic houses?"
The Wiggin home is utopian indeed. We were shown photos of Harrison Ford as Colonel Graff and Viola Davis as Major Anderson inside a very picturesque living room, presumably when they've come (together, I might add) to take Ender to Battle School. Last month, we actually got to stand in that very same living room at the Ender's Game Experience at Comic Con.
While a lot of the stills they showed us have been erased from my memory by time, one that managed to stick with me is an overhead shot of Valentine looking up at something with a sad look on her face, presumably at that point Ender is already gone. I can't remember if it was a mobile or something else, but it could possibly be the plane hanging from the ceiling of his bedroom.
The homes aren't the only things carrying "classic" themes. At school on Earth, the classrooms are designed after typical science classrooms just like one that you might have learned in yourself. When it comes to Battle School, however, you can see the contrast Orci talks about when you compare the classroom you know with this image (below) of a classroom in Battle School. We also saw a still with Ender facing off against a rather intimidating Stilson.
Some of you may remember we all got to see a photo of Ender's monitor last year and during the presentation they showed us a photo of Ender sitting on a medical examiner's table, with some concept art of the utopian society shown on a window behind him.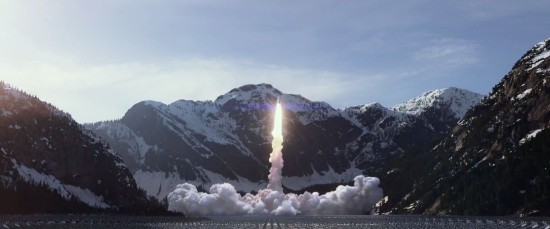 In the trailer, there's a shot of a rocket shooting into space and I'm assuming that this is Ender and Graff launching from Earth to go to Battle School. Orci mentioned that they'd started with concept art of a space shuttle taking off like an airplane, but they were promptly shot down by SpaceX CEO Elon Musk, who they'd been consulting with. "[Musk] said, "No, that would never happen. Since you're trying to get up, just point the damn thing up.""