From Book to Battle Room
It was clear to us that some of the producers in that room had spent large chunks of their lives trying to bring Ender's Game to the big screen. Lynn Hendee had held the rights to the adaptation for a whopping fifteen years. Bob Orci read it when he was twelve. They reminisced at how everything had to align just right and how they had sort of a sniff test to feel each other out before getting together for the project. "Nobody wanted to make this movie at the cost of doing something to the integrity of the story that would disappoint ourselves."
McDonough said it was also about the right people finding the book on their own and and achieving the right amount of power to get it made, such as Gigi Pritzker, co-founder of OddLot Entertainment. "Gigi was given the book by her nephew when he was twelve and he knew she was in the film business and he [said], "Aunt Gigi, I just read the most important thing I've ever read and it should be a movie." And that's when she started making phone calls and tracking it over time."
They waited through years of frustrating meetings with studios that made demands they couldn't live with, such as Ender being fully aware of the situation at the end (which is kind of ridiculous when you consider the true meaning behind the movie's title) and a sexual relationship between Ender and Petra.
Their big break finally came when they screened a teaser at Cannes, which secured the foreign rights to the film. That sale became the cornerstone of their financing. The teaser, which was created by Digital Domain, was 45 seconds long and they played it for us. Here's the brief script so you can get a sense of what they went for:
Woman's Voice: He's not ready.

Man's Voice: You're never ready, you go when you're ready enough.

Woman's Voice: He's too young.

Man's Voice: He's a genius, he'll figure it out.

Woman's Voice: He's exhausted.

Man's Voice: He's decisive.

Woman's Voice: You're changing the rules.

Man's Voice: In a battle with the Formics there will be no rules.

Woman's Voice: Erase the game.

Man's Voice: He's the one.
As we now know, those first two lines made it into the movie! Or at the very least, the second trailer. While it took Gavin Hood almost six months to write the script, Orci said they all knew from the very first draft that it could work. "It was a movie from his first draft." By the time we arrived on set, they were on draft sixty four.
Although the characters are children, Hood insisted that their voices needn't change. "It's that weird line, […] it's like they're soldiers, but they're kids." said McDonough.
Casting
When it came to finding their Ender, they did in fact audition young children for the part, but in the end, the performance took precedence because it began to affect the credibility of the character. "Ultimately the only thing that mattered is who would we believe could be Ender and who would we believe could be the leader of his peers by the end of the film," said McDonough. "If we could have found somebody six or seven who could believably deliver the performance, we would have done it in a heartbeat. The movie lives or dies on whether people believe Ender."
As for who else was in the running? McDonough says there was no neck and neck race. "Asa was the only one who captured our hearts. But we tried." After Ender was found, they cast the rest of the kids around him. The prevalence of whitewashing in Hollywood came up, and Orci was quick to point out that they were in fact pretty diverse with the kids. "We're very proud of our casting."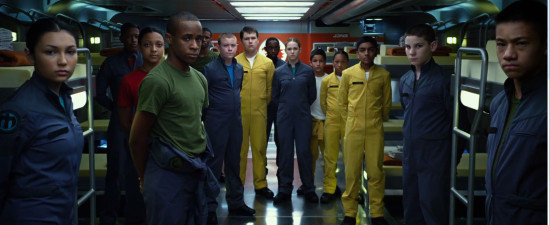 At one point, I commented that Nonso Anozie is very tall and they joked that this worked to their advantage because it made Ender look smaller by comparison. Interestingly enough, Ender's Game was shot chronologically, which is a bit unusual.
And as for the kids literally growing as they shot the film, Orci says it worked to their advantage. "We [were] lucky with Asa in that he, I think, [grew] two and a half inches during the shoot. So he starts the movie seeming like a much smaller kid and by the end of it as he becomes a leader, he's actually sort of grown into it and I think it's going to have a weird subtle psychological effect when you're watching it in the movie. So let's talk about method acting, huh? "GROW!""
Having spent a week together at Space Camp for training, the kids all gravitated to each other right away from the first welcome dinner. McDonough said she was really touched with that moment, "We kind of secretly took pictures of them at the beginning because they were just were magnets for each other." She recounted a story of how one day while shopping at a Wal-mart she saw the boys with bikes. A bit alarmed, since it wasn't the greatest part of town, she said they used their per diem to catch a cab to buy the bikes. "Then they rode off and [it] looked like ET, this little pack of them going."
And while there has been a bit of a fuss from fans over the casting of Sir Ben Kingsley as Mazer Rackham since he's not Maori, the producers admitted they had always envisioned Kingsley for Rackham. As for Harrison Ford, we wondered if he was hesitant to return to the sci-fi genre. "Before he read the script […] he just knew about it sort of tangentially and then once he read the script and the book, he realized what an emotional sci-fi story it was and how rare that is. And so for him it was very interesting to do that where it had some real weight. To do something that means something."
When asked how they tackled the problem of leaving a doorway open yet properly compacting the movie into it's own storyline, Orci said that any movie could have another chapter. "It's all about what you feel at the end."