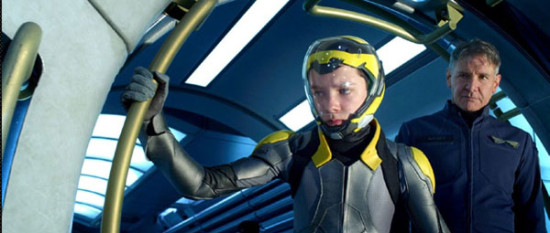 Set visit reports are pouring out today and Slashfilm's piece had a particularly interesting tidbit of info that should relieve fans still worried about author Orson Scott Card's comments last year about how one Battle Room scene was "one too many".
There will be about five scenes in the Battle Room and it took about 4 weeks to shoot them all.

Whatever the cost, producers knew the zero gravity battle scenes had to be done right. Stunt coordinator Garrett Warren said he was never given any kind of restrictions in developing the zero gravity tech because everyone knew the movie hinged on it.

Hood and Warren looked at all kinds of different ways to capture the zero gravity including, but not limited to, actually filming in real zero gravity. They investigated more mundane solutions such as computer graphics and motion-capture, but eventually decided on elaborate practical effects.
They also reveal that they learned that each of the three stars built on set weighed a whopping 13,000 pounds!
To read their full list of 30 things they learned on set, click here.