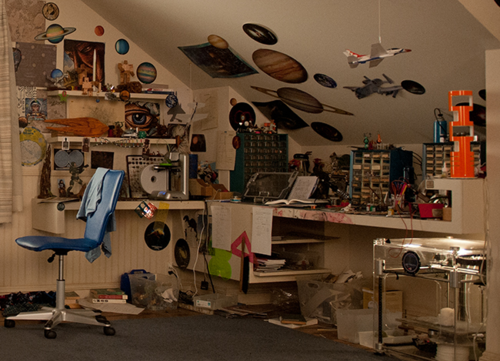 For this week's production entry on Ender's Game blog, we get a look at Ender's bedroom, which is full of knickknacks, space decals, and model planes.
The more futuristic the world, the more invisible its technology. So why shouldn't Ender's room look just like any normal kid's room?  And not every future is a dark dystopia.  The world that Ender lives in is a world worth saving.  That's why he is willing to leave his family to go into an orbiting Battle School and risk not seeing his sister, Valentine, again until they are both adults.
I like that they gave him a modern room. I've never really imagined Ender's home to be dystopian and run down.
We will keep your room for you just as you left it, Ender…
In other news, cast member Khy Rhambo tweeted that today they worked on Salamander Army scenes in the Battle Room.
Amazing day of shooting with our flash suits @ImNotMoises @HaileeSteinfeld @asabfb @bsoohoo Salamander all day son !!!