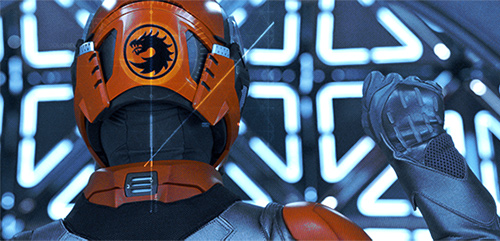 Ain't It Cool News has posted their set visit report and in it they provide us with the scene where Ender is assigned Commander of Dragon Army.
"[Y]ou have a habit of upsetting your commander."

Ender replies "I find it hard to respect someone just because he outranks me, sir." At this, Graff leans back in his chair, giving Ender his full attention, rocking back and forth slightly.

"That puts you in a difficult position, doesn't it? You don't like taking orders from Bonzo… perhaps you'd prefer to give them," says Graff slyly, kind of like a parent about to unveil a Christmas present. Ender is confused. "Sir?"

Graff: "How would you like your own army? Dragon Army."

Ender: "Sir, I've never heard of Dragon Army."

Graff: "We discontinued the name four years ago. No Dragon Army ever won a battle."

Ender: "Why not a new name, sir?"

Graff: "Because we already have the uniforms."

Ender: "Who will be in this army?"

Graff: "Misfits, like yourself. Outcasts who might just be brilliant with the right commander."
It should be noted that this is his transcript of the original scene he saw and that later takes may have changed it. Still a cool look into Ender's promotion into Dragon Army, though! He also mentions the scene that we see in the trailer that Khylin Rhambo confirmed on EnderCast was with him and Hailee Steinfeld.
I didn't spend much time in the Battle Room set, but I did see Hailee Steinfeld film a scene with Khylin Rhambo, who plays Dink Meeker. It's one of Ender's gambits where one person from his army is sacrificed and used as a human shield. In this case Dink is frozen into place and Petra (Steinfeld) takes his flash gun and fires John Woo style as Dink hugs her, protecting her from enemy fire.

In order to get this shot they had to get on a weird little contraption that the wire team called the lollipop. Imagine a bar stool seat attached to a long stick with one affixed wire attached at the middle. Hailee sat on the seat, Dink on the bar, his arms over her shoulders and her legs wrapped around his waist with both her arms shot out under his shoulders firing away as they float away from the enemy gate.

Dink whispers "Did you get him?" Petra smiles and says, "Oh yeah." He's looking behind her and sees their momentum is taking them on a crash course with a star and they both cringe, anticipating the impact.
Read his whole report here, including an amusing interaction with Harrison Ford.