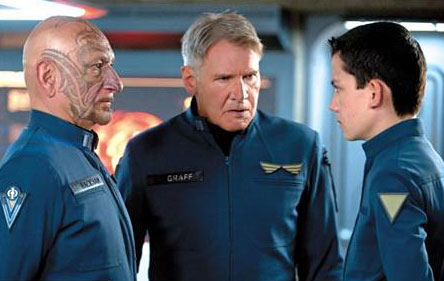 Although we just posted an image that is from Entertainment Weekly's Fall Movie Preview, turns out that was the bonus tablet image. The image above, which shows Mazer Rackham looking at Ender while Graff gives Ender an angry look, is the actual image from the print issue on stands today. (look for the Anchorman 2 issue)
In the brief article, Gavin Hood talks about how when he told his visual effects supervisor what he wanted for the Battle Room, "his eyes nearly popped out of his head".
HUGE thanks to my friend Michelle for helping me view this on her iPad!
Source: Entertainment Weekly tablet edition