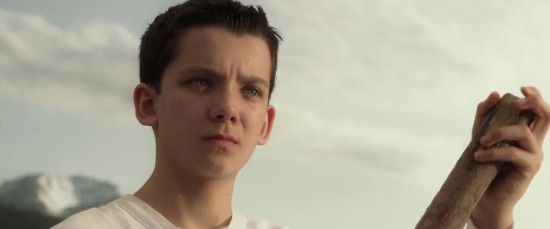 Now that the final trailer for Ender's Game has been released, armchair critics around the world are typing out their opinions on "the nets" with comments ranging from a simple, "SPOILERS" to "this movie looks amazing" to "this movie looks awful".

For book fans, a common kneejerk reaction to the new trailer is the complaint that it's made pretty clear that the major "twist" of the Ender's Game book–that it's all really happening–is not preserved for movie audiences. And yet, I'm sure we all can eventually realize that as long as the truth is hidden from Ender, the heart of the story is intact.
When I first saw the trailer at Comic Con, I tweeted about this audience perspective topic because it somehow surprised me. Since I think a lot about this movie adaptation, I'd known for a really long time that it was possible they'd open this part of the story up, but seeing it on the screen was still a bit of a shock. Now that I've actually had the chance to watch the trailer as many times as I'd like, the dust has settled and I've come to realize the amazing potential of such a decision by the filmmakers.
The most important thing to realize right from the start is that Ender's Game is a film adaptation. A book is a book and a movie is a movie. I know we book fanatics can sometimes be so stuck to the pages of a novel that we can't see the painfully obvious–that impactful scenes in books can translate into awfully dull scenes in movies.
Mind you, this is not a criticism of Card's book. I obviously wouldn't have started this site and invested so much into it if I didn't truly love the book he wrote. They're simply different mediums. Let's look at Eros. The environment Card put Ender in worked exceptionally well for an individual holed up somewhere with their nose in a book because let's face it, we all read alone.
We feel isolated in some way when we sink into the world of a story and that's probably part of the reason why we felt a kind of relationship with Ender Wiggin. You felt alone with Ender Wiggin in that isolated simulator room with Mazer Rackham breathing over his (and your) shoulders. You can immerse yourself into his situation and for some people this creates tunnel vision, which is what makes the final reveal of the twist so jarring.
Movies, however, are an entirely different experience. Rather than relying on imagination, movies depend entirely on visual appeal, sound effects, and performances. Movies must also present a much broader picture in much less time, which becomes a crutch for telling such a complex story as Ender's.
The reason so many of us are so attached to the story of Ender is that it made us think. After it was over, there was so much to talk about and contemplate regarding morals and ethics, which is probably why it's taught in so many schools.
Books have the luxury of having pages and pages to explain the complexities of plot, but to preserve his twist, Card doesn't actually do this during Ender's "gaming". He left the explanations for the post-war section of the book. The movie could do the same, but the flow would be interrupted because people would have to think back to what he did. With prior knowledge of what the teachers are hiding from Ender, audiences are set up for a bigger emotional investment for when Ender finally learns the truth.  This isn't The Sixth Sense, nor does it have to be.
Revealing the real "game" the teachers are playing also gives us a much better look into the characters of Graff and Mazer, who are, let's face it, marquis players in this movie's cast. Hiding it actually seems like wasted potential for the film. By expanding upon the teachers' moral dilemma over Ender, their characters become more complex and therefore more interesting rather than being straightforward domineering superiors.
We've seen only a few seconds of Graff in the trailers and a lot of it could be taken out of context, but I'm liking what I'm seeing so far. One of our readers on Facebook said that he doesn't like how they've been portraying Graff, that he's much too hardass and not the Graff he loves. I have to respectfully disagree because the brief glimpses of Graff that I've seen are to me true to the heart of his character.
While the book-Graff we know clearly cares for Ender, what has always made him compelling is the fact that he knows enough about what's at stake and sets his sights on the end goal, which is the safety of the human race. He is the cornerstone for the conversations people have about this story. Do the ends justify the means? Is what they did to one boy "excusable" in order to save billions? And while Graff in the trailer does sound cold and jaded, this is the steely determined Graff that molds Ender into who he is. Without his drive, Ender may not have succeeded.
The conflicts between Graff/Mazer and Graff/Anderson would serve to highlight these issues and with audiences aware of the true nature of the destruction that Ender is causing, it ultimately makes for a much more powerful finale. In short, the emotional impact of the movie shouldn't be that you didn't realize what was going on. The impact should be with Ender's realization that what you've just watched with the same horror as Graff and Mazer was, in fact, not a game.
Regarding the complaint that the trailer shows the movie's twist, it's really all in how you look at it. There technically is no audience twist like with the book. Instead, there's only Ender's twist. With the look on Graff's face, you can imagine all his fears, his hopes, his regrets, and his sorrow. He looks as though in this moment, he finally realizes the scope of the "weapon" he's created in Ender. And yet, the true horror he has to face is yet to come when he has to face Ender and tell him the truth. This will be the movie's heart. And it's not in the trailer.
I could be wrong. Perhaps the trailer has been very cleverly edited and I only think I know what they're saying because I've read the book. But movies have a different level of power when it comes to evoking emotion. Gavin Hood has talked about putting pages of thinking and emotion into a single look on screen and I think that's indicative of his own awareness of the importance of the ending.
Last December, I wrote a piece in which I talked about what Ender's Game ultimately needs to accomplish. I said that what mattered most was that audiences realize what they've done to Ender and I think at that time, I thought that it rested solely on Asa Butterfield's performance immediately following the final battle.
I can see now that the setup for that scene will be a key factor in making that performance truly successful. With that setup, his performance would be given so much more weight. And so, I want audiences to know. I want audiences to feel and despair over Ender's actions so that when he's finally aware, every little part of that scene clicks into place. To make people feel what I and so many of you felt when we first journeyed with Ender Wiggin would be an amazing accomplishment and a rounding success for Gavin Hood and his cast and crew.