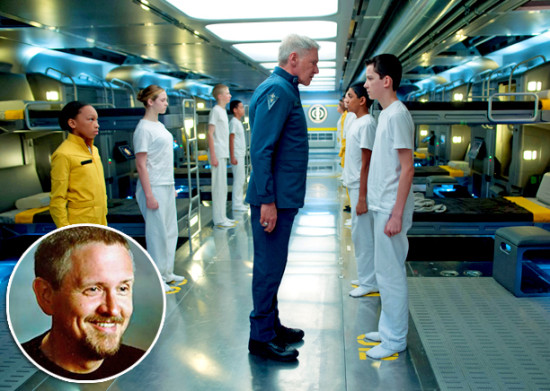 The internet is buzzing about Ender's Game and it's not in a good way. Skip Ender's Game recently began a media push to encourage people to host events for their movement to negatively influence the box office success for the upcoming film adaptation. After the Huffington Post ran a story on their campaign, news outlets began to pick it up and the story spread like wildfire.
It's not an issue that's new to Ender's Game fansite owners. I've been dreading days like today for years. The issue is one I think about constantly. Back in February I wrote an opinion piece about the controversy. Kelly and I dedicated an entire episode of EnderCast to discussing Card's views on gay marriage and the effect it could have on the film and everyone involved.
What truly bothers me is that the cast and crew of the film are being forced to bear the burden of Card's words and actions, which is definitely something that I hold against the author. The bulk of the cast is made up of child actors ranging in age from 12 to 19. They're in essence being found guilty by association and suffering the consequences of a constant stream of negativity of what is no doubt the pride and joy of many of their careers.
Today, in response to the boycott of the film, Card issued a statement to Entertainment Weekly:
Ender's Game is set more than a century in the future and has nothing to do with political issues that did not exist when the book was written in 1984.

With the recent Supreme Court ruling, the gay marriage issue becomes moot.  The Full Faith and Credit clause of the Constitution will, sooner or later, give legal force in every state to any marriage contract recognized by any other state.

Now it will be interesting to see whether the victorious proponents of gay marriage will show tolerance toward those who disagreed with them when the issue was still in dispute.

Orson Scott Card
To those curious, I personally am a supporter of gay marriage, which is probably why I think about this issue so much. I constantly feel torn in two different directions. And yes, I have read his anti-gay marriage and anti-government op-ed pieces. I've read the Salon.com article. I know he's on the board of NOM.
I understand why Card is such an easy target. He's painted a big fat bullseye on his forehead on more than one occasion. However, I don't think that the right way to deal with his opinions and actions is with further hate. On the Entertainment Weekly article, someone casually commented that someone needs to assault Orson Scott Card, with a description I'm not even going to repeat here. Comments like that are disgusting, disheartening, and downright depressing and all people are doing with words such as those is sinking down to the very level they condemn.
Even though I don't agree with it, I can respect what Skip Ender's Game is doing, provided they go about it in a peaceful manner and allow the supporters of the movie the same respect to their own opinions. I don't know what Geeks Out intends for people to do at their events, but there's nothing I'd want to say against a peaceful boycott.
And yet, what exactly are people boycotting besides Orson Scott Card?
They're boycotting a young boy who is so good inside that he can find it in him to love anyone, even his mortal enemies. A boy who is astonishingly bright, a natural leader, and a savior of Earth who has everything dear to him taken away for the greater good of mankind. He is selfless. He is kind. He is a child.
If you haven't read the book, have I piqued your interest? You don't have to put money in Card's pockets to read it. Visit a local library. Borrow it from a friend. You can even read the first five chapters of the book online for free.
My point is, the book is not the author, and you should find out for yourself who Ender Wiggin really is before you skip him because he's one of the most compassionate and inherently good characters I've ever encountered in decades of reading books. Considering the world we live in, I ultimately think it's more important for people to meet characters like Ender than it is to boycott the movie.
In short, in my humble opinion, the world we live in could certainly use more Enders.