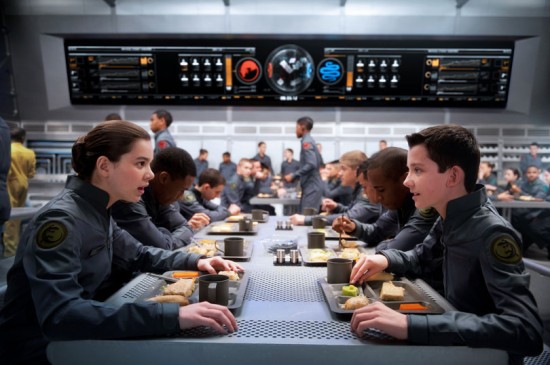 Although it's been an exciting week for me as a fansite admin who got to release some extremely cool exclusive content for the Ender's Game movie, the timing of the release is admittedly a bit unfortunate.
To explain, a couple of weeks ago, DC Comics announced that Orson Scott Card would be writing a chapter in an upcoming Superman anthology. Petitions flared up online and, as it has in the past, discussion after discussion emerged about his very vocal opposition to gay marriage.
As the owner of this site, I can't deny that the subject of Orson Scott Card's vendetta against homosexuality makes me feel all kinds of things. Awkwardness. Embarrassment.
Shame.
So why do I still do what I do? To be honest, I do it for my fellow fans. I know that people out there love Ender just as much as I do and fansites serve a very special purpose: being a specialized resource for a niche topic. A gathering place for you to nerd out over a story that resonated through you enough to make you truly feel.
I became a fan of Ender's Game in maybe 1991 or 1992. At that time my family had no internet and so all I knew about the author was from those little bios in the backs of books that 12 year-olds pretty much never read. In short, I knew nothing but his name and hometown and therefore freely fell in love with the story of Ender and his journey through Battle School. It was at least a decade before I began to hear about his personal views and I found it so confusing. The Ender books seemed so compassionate and loving, even towards a fictional species that humanity had been taught to fear and despise.
It's become a trend at this point that anytime something from the Ender's Game movie is released, comments are either riddled with or overwhelmed by talk of boycotts and sometimes disgust for the movie. I understand the people who say they refuse to buy a ticket because that's their choice, but I worry about direct protestations against the film and the actors later down the line.
It's worrisome because I can't seem to shake my connection to Ender and his story and it troubles me to see people taking the flamethrower aimed at Card and pointing it at Ender instead. Will people eventually turn on Asa Butterfield, Hailee Steinfeld, and Aramis Knight? The thought of protesters shouting at Asa Butterfield brings to mind an eerie parallel to what might have happened upon Ender's homecoming post-war.
Card has said that he hasn't even read the movie's script, so it's not as if he's been hovering over the movie's production. So will the hard work of hundreds be wasted because of the man who created the story the movie is based on?
The Hollywood Reporter recently published a piece on the controversy building around the film, talking to some studio executives for input.
"I don't think you take him to any fanboy event," says one studio executive. "This will definitely take away from their creative and their property."  Another executive sums up the general consensus: "Keep him out of the limelight as much as possible."

Ender's insiders already are distancing themselves from the 61-year-old author. "Orson's politics are not reflective of the moviemakers," says one person involved in the film. "We're adapting a work, not a person. The work will stand on its own."
Author involvement in marketing seems to be an emerging trend now with the hyper popularity of social media, which can make one wonder if author involvement is now an essential part of the marketing engine of a film or TV series.
JK Rowling was fairly accessible throughout the decade of Harry Potter films. George R. R. Martin announced official Game of Thrones casting choices on his Livejournal. Cassandra Clare, author of the Mortal Instruments series is very active online, teasing her book fans with tidbits and teases from the movie. Fans of the newly released Beautiful Creatures could follow author Kami Garcia around the world as she attended events for the movie. Hugh Howey maintains a regular blog and vlog, which likely won't change if Ridley Scott goes into production for Wool. Do I even need to mention Twilight author Stephenie Meyer? It's no secret that author involvement drives fans wild with glee.
So with that in mind, can a film succeed without its author around to help promote their book's movie adaptation? Of course it can.
The Lord of the Rings movies probably made enough money to buy a country and build a Middle Earth set to scale and Tolkien was long dead. Hunger Games author Suzanne Collins is so private she did one interview with Entertainment Weekly, published a letter reviewing the film, and attended the premiere yet did zero interviews. The movie brought in close to $700M worldwide and sold 3.8M DVDs in its first weekend.
However, intentionally keeping Card out of the movie's marketing limelight will be more awkward than a simple shift of focus to the actors. San Diego Comic Con is fast approaching and with a new Enderverse book being released just a month prior, the odds are good that Card will be in attendance, just as he was last year. His co-author Aaron Johnston has already said he's going. So it might look terribly odd that the movie's author is at the Con, probably sitting in Hall H, yet not sitting on the panel. Later this year, will he walk the red carpet at the premiere or just go straight into the theater? Or will Summit just give him his own private viewing?
That might be what needs to happen to ensure that none of the anger directed at Card bleeds over to the cast. The kids worked their butts off and with the exception of Asa, Hailee, and Moises, this is their biggest role yet. For many of them, it's their first feature film. And while I'd admire teenagers who can handle intense negative publicity indirectly pointed at them, I don't think any of the cast should be made to feel ashamed of being in Ender's Game. It's their time to shine and they deserve praise and recognition.
What it boils down to is that given the way the film's digital media has thus far never failed to attract the attention of those wanting to shout down the movie, I agree that they'll need to keep him out of the limelight as much as they can. Hopefully in the end, despite the inevitable guilt by association, Summit can channel some Ender Wiggin and lead their movie to a box office haul worthy of Dragon Army.
The above is an opinion piece and the views expressed are my own. I am not associated with Summit Entertainment or Lionsgate.