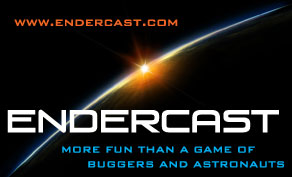 The 9th episode of EnderCast is now available on EnderCast.com!
This week we welcomed our very first author guests, interviewing David Lubar and Alison Myers, authors of Parallax Regained in the newly released Ender's World. Topics we discussed with them included:
Alison mentions in gender in Parallax Regained and how Scott has two well-crafted and dynamic female characters. As a female reader, it was a little disappointing that he had Petra fail on Eros. Why do you think he chose Petra for this incident?
How can Peter/Valentine/Ender's motivations be shown on screen, especially when we never get to see from Peter's perspective?
Thoughts on Anderson being changed to a woman and the effect of Asa being older on the transition of the story from book to film.
Considering how the landscape of gaming has changed so much in the last 10 years, in a hypothetical situation that the IF needed to recruit for Battle School, could they do so in the pool of gamers out there today?