Since Nancy Kirkpatrick, worldwide marketing president for Summit, said in an interview a couple of months ago that she would be turning her focus from Twilight to Ender's Game, it's safe to say that the company is planning a decent if not huge presence at this year's San Diego Comic Con. The film will undoubtedly be a huge draw for attendees of the con and so it would make sense for a full trailer to be unveiled in Hall H.
Still, it's all up in the air with regards to who from the cast will be attending. But thanks to Aramis Knight, we now know that we'll at least be seeing Bean in attendance at this year's con!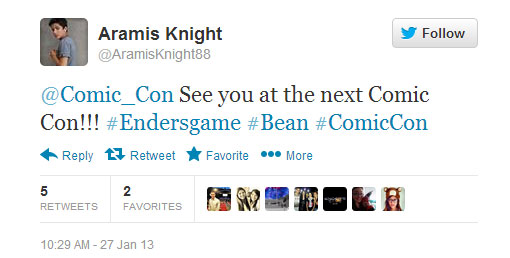 The young actor tweeted yesterday that he'll be at the next Con. Since professional badges for SDCC 2013 went on sale today, hopefully we'll see more confirmations soon.
If you plan on attending SDCC for the first time this year, don't forget that you must have a valid CCI Member ID before you can attempt to purchase a badge when the sale starts in early spring. To get your Member ID, click here.