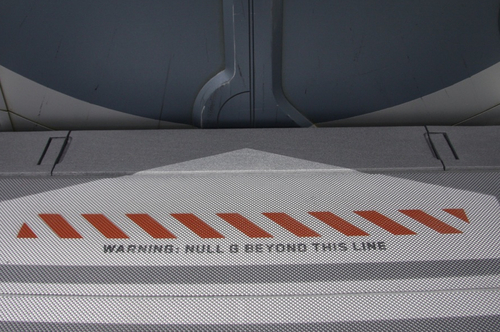 Even though principal photography is now truly over, with Asa Butterfield returning to his home in the United Kingdom yesterday, Bob Orci managed to give the fans one more production blog entry to oogle over. In what appears to be concept art of the gate to the Battle Room, we get to see another glimpse of the rounded doors we previously saw in the background of a photo of Mr. Orci.
On the floor are the ominous words: "WARNING: NULL G BEYOND THIS LINE"
Ask anyone to quote 'Ender's Game' and the majority will probably say, "The enemy's gate is down." Yet it can be easy to forget that it's only "down" in the battle room. The concept of up and down can be so hard to deal with that it induces vomiting, something that happens to some of Ender's fellow Launchies on the way up from Earth. Part of Ender's training included teaching his soldiers that quick reminder of how to re-orient themselves once they entered zero gravity.
The Battle School operates with gravity, which means that up until the soldiers enter the room, the gate looks like any other doorway. Look down at the floor to read this warning and your brain will likely automatically attribute the floor as being down. Enter the Battle Room and down could shift to being above your head.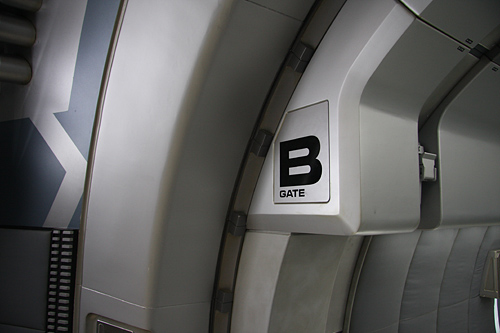 This photo shows "B Gate", though it's hard to tell if this is artwork or an actual still. The inner area looks to be padded and quite wide, so it's possible this is the outer door and the null g warning appears on the floor on an inner chamber pictured to the right.
Orci gave a bit of background on production designers Ben Proctor and Sean Haworth by asking them about their fan background and they didn't disappoint.
For Ben, he read the founding short-story at age twelve, and has been a fan ever since. "Fans of the book will hopefully recognize what they've been imagining for years, but also be impressed with the level of detail. And as a fan, you have an actual emotional reaction finally seeing the Zero-G action you've always visualized."

As for Sean, having read the book in his twenties, [he] vividly remembers not only the science and technology, but the terrifying human elements behind it all.

"I was torn between wanting to be Ender but never having to be faced with that kind of a future," he said.
Just looking at the photos posted, you have to wonder just how set designers go about taking concept art and making that a reality. Do they order parts? Do they literally make them from scratch themselves? It's mind boggling, really.
"We tried to imbue the spaces and vehicles with a gritty, engineered realism that would help sell the seriousness of the training our hero kids are going through. The visual style of the Formics, on the other hand, needed to be both exotic and beautiful to represent a society not deserving of extinction."

Ask them to describe the Formic world and you'll get excited tales, imagining a Formic method of manufacture that was distinctly inhuman — a kind of biological 3D printer, with the drones building living spaces and spacecraft layer by layer.
It's interesting to hear their perspectives on the need to make the Formic sets exotic and beautiful because they could have easily gone the other way and made their sets simply terrifying (Aliens comes to mind) or simply more technologically advanced than the humans. To read the full entry, head over to Ender's Game Blog.
With production at an end, it's understandable that the production blog comes to an end too, but hopefully we get to see something else down the line as they move into post-production. Eventually, we'll probably see the launch of a full blown website, Facebook page, and Twitter. Hopefully that's not too far down the road.
And in other news, we've just cracked through the 500 day mark to the premiere of Ender's Game! Woohoo!