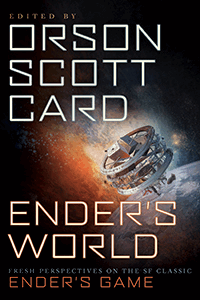 Smart Pop Books will be publishing 'Ender's World: Fresh Perspectives on the SF Classic', a collection of essays written by almost two dozen writers and edited by Orson Scott Card himself, in February 2013, but 25 lucky fans won't need to wait that long to get their hands on a copy.
Visit Smart Pop Books at booth #4300 at the 2012 San Diego Comic Con and you can enter to win one of 25 advance copies of the book. Head over to Smart Pop Books to see what else they have in store for SDCC.
They will also be giving out free copies of their preview volume, which will include an essay by Hilari Bell called 'Winning and Losing in Ender's Game'.
Ender's World: Fresh Perspectives on the SF Classic Ender's Game, edited by Orson Scott Card, comes out in February 2013. But we're giving 25 Comic-Con attendees the chance to read it first.

Come by booth #4300 and ask us to scan your badge to be entered to win an advance copy of Ender's World. We'll pick the winners after the end of the convention and notify you via email. Then we'll ship you your copy, hot off the presses, as soon as they're printed!
The preview volume will also include excerpts from their upcoming books about 'The Hunger Games' and 'A Game of Thrones'.