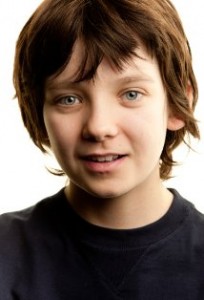 There's big news to report today in regards to the film adaptation of Ender's Game, with Deadline reporting that 14 year old Asa Butterfield, who stars in Martin Scorcese's Hugo opening next week for the Thanksgiving holidays, has been offered the science fiction role of a lifetime: Ender Wiggin.
It's already been reported that the book's main characters have all been aged up significantly, but the young actor doesn't necessarily look like he's 14, which is a good thing because the younger Ender can look, the better it will fit with the overall theme of the book.
A professional actor since the age of 8, Butterfield has a decently sized film resume to back him up. It'll be interesting to see who will be cast next. Will it be precious Valentine Wiggin or sociopath Peter Wiggin? Are they going to be able to find a kid smaller, younger, and spunkier than the commanding Ender for the role of Bean?
Ender's Game is set to be released on March 15, 2013.
Source: Deadline