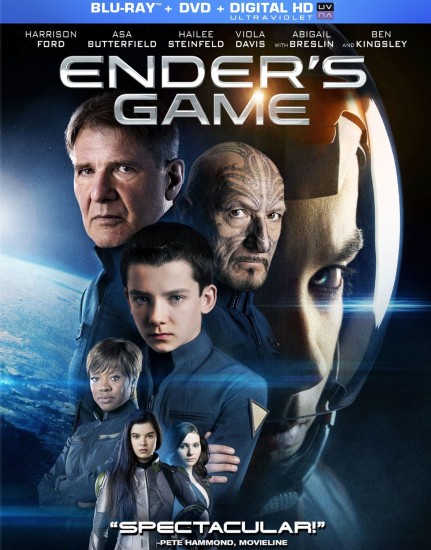 Tomorrow, Ender's Game will be released on Blu-ray and DVD combo pack, giving Launchies the chance to watch Ender's Game in the comfort of their own homes. Sure, we won't get to watch Ender dominate on futuristic televisions, but at least we'll get to watch it whenever we want.
A couple of weeks ago, Lionsgate was nice enough to send me a copy of the Blu-ray to review and so I got to watch the Blu-ray exclusive featurettes Ender's World: The Making of Ender's Game and Inside the Mind Game along with six deleted scenes from the movie. Since deleted scenes are what most people are looking for, I'll get right to it.
Say Goodbye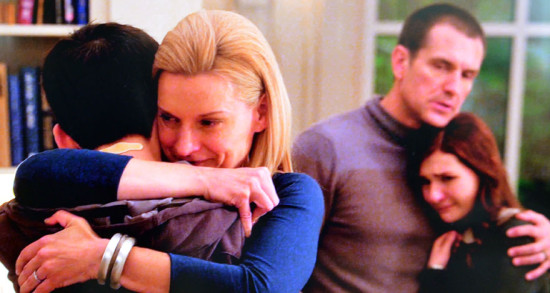 The original goodbye scene in the movie was ridiculously short, with just a tearful hug from Valentine and some voiceover and watching this extended scene with goodbyes from Mr. and Mrs. Wiggin, Peter, and Valentine made it feel like the final scene sums up how people felt about the movie in general: it was way too cut down.
You can watch each scene with commentary from Gavin Hood and he expresses regret on losing the scene with Peter, something I agree with, but it would have been more important if they'd made Valentine and Peter a constant presence in the film. Valentine gives a rather nerdy goodbye with a quote from Shakespeare, but this fits with what I always saw Valentine as: a really cool nerd.
The part I felt should have stayed in was Anderson objecting to Mrs. Wiggin giving Ender a token to take with him. I feel like that would have contributed to Ender's isolation and outweighed any "break in pace" that Gavin mentions was the concern here.
A New Recruit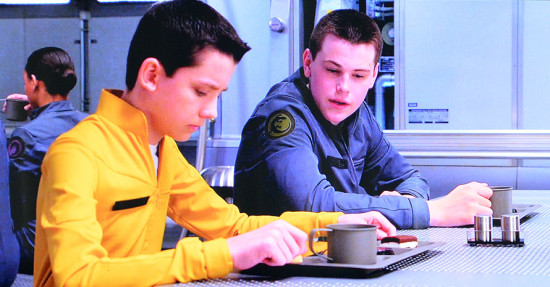 This is one of the few completely deleted scenes in which Ender has just entered the mess hall and sees Bonzo and Fly Molo obsessing over the current battle between Rat and Asp, which will determine whether or not Salamander remains on top. After being yelled at by Bonzo, he's ordered to go sit in the corner with O'Reilly (who he later replaces) who turns out to be Mick. He takes Ender's dessert and gives him his roll, basically like in the book, which was a nice touch. Gavin talks about how he was particularly sad to lose this scene and that his original cut was 15 minutes longer. Another little homage to the book, we later see Ender trying to fall asleep by counting doubles, a trick he'd picked up from Valentine.
It's For His Own Good
This scene is an extended one of a conversation between Graff and Anderson and Gavin mentions that it was cut simply because it would have tipped the audience off on what was really going on. As we know from the final movie, the studio chose to preserve the twist of the book, contrary to what the trailers were implying during promotion.
Leadership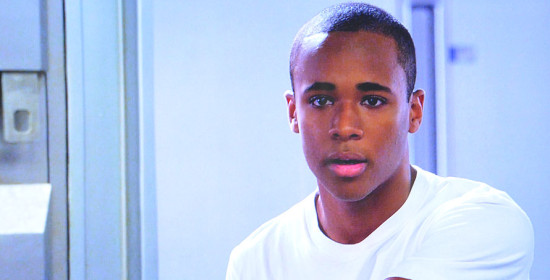 Gavin mentions that this scene follows the mess hall scene, but while technically true, I think this actually comes right after Ender wakes up from his nightmare about Peter. He's in the bathroom washing his face and Dink comes by to check on him while Graff still wears his pissed off, slightly sweaty from bed look after his fight with Anderson. Like in the book, Dink talks about how he was promoted twice, but he turned it down because power drives people crazy.
We Need Ender
Although this is the extended version of a scene in the movie with Graff and Valentine in the car, I'm not really sure I understand why it was cut. At one point, Valentine looks at Graff in shock and simply says, "I hate you." His reply was nicely done and I agree with Gavin that it's a pity it was cut.
They Should Know
This extended scene between Mazer and Graff is actually one that we saw in the trailers and promos and was eventually cut out to help preserve the twist. Be sure to read my editorial on why I thought that a spoiled twist would have made for a powerful movie too.
The saddest part about the deleted scenes was that you see a ton of odes to the novel, including Val's "I love you forever!" I'm not sure all of them would have worked, but some seem like they would have fit into the film just fine.
Featurettes
Although you can buy the DVD, the Blu-Ray of Ender's Game is a combo pack, meaning that you get three copies of the movie: Blu-ray, DVD, and Ultra-Violet. The two featurettes are available only on the Blu-ray and if you don't yet have a BR player, on the assumption that you will probably eventually get one, you might as well just buy the BR combo.
The featurette on the Mind Game was sadly pretty underwhelming and raw. There was no special introduction or commentary, it was basically just splices of raw footage and behind-the-scenes stuff. That being said, you do get to see Gavin act as the Giant, which was pretty cool. It just didn't impress me production wise.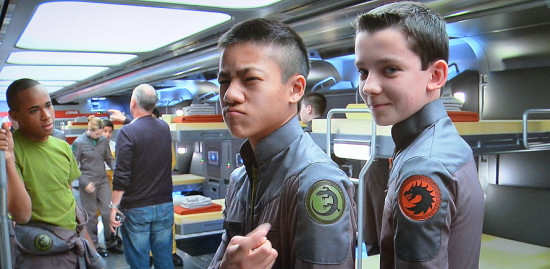 The 45 minute Ender's World featurette, however, was very satisfying to watch and is worth the extra cost for the BR. The featurette is split into 8 chapters and features interviews from not just the big stars, but our favorite characters from the book such as Aramis Knight (Bean), Khylin Rhambo (Dink), Brandon Soo Hoo (Fly Molo), and Suraj Partha (Alai).
Hidden in the featurette are some little snippets of deleted scenes that aren't highlighted in the deleted scenes section such as a brief flash of Bean presenting the deadline to Ender and  Bean in tears at the end saying, "He lied!" There's really cool Space Camp footage, as well as training footage that Launchies will get a real kick out of. The creature design was very detailed, with their creature designer even going so far as to determine how Formics digested things.
Set designer Ben Proctor gives you a look at his iPad app that shows the final set as he videos the set live, something that almost seemed like it couldn't be real. That's how cool it was.
I haven't yet had a chance to watch the movie with commentary from Gavin Hood, Roberto Orci, and Gigi Pritzker, but hope to soon. As I mentioned earlier, if you're still deciding between DVD and BR combos, keep in mind there's only a $5 difference between the two sets on Amazon. Having the added benefit of a BR and two exclusive featurettes is definitely worth $5 in my book. I will be launching a Blu-ray giveaway later today, so be sure to stay tuned for that!