Warning: This editorial contains MAJOR book spoilers for Ender's Game.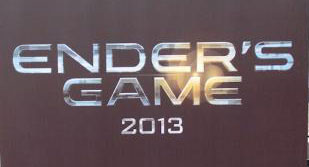 As we head into 2013 and move closer to Ender's Game, I want to address what I think the Ender's Game movie will need to do in order to be a success in the eyes of faithful book fans.
I should note that I'm not talking about box office success. I've been an admin for Mockingjay.net, one the oldest and largest Hunger Games fansites out there, for a year and a half and what I have learned is that when you stalk a movie's production and marketing, somewhere along the way you form expectations. You form a list of which scenes you assume are impossible to cut. And while the movie can rake in piles and piles of cash, it can still leave its book fans feeling somewhat lost and empty.
To give some perspective, I began working for Mockingjay.net in June 2011. For close to a year, I knew every bit of news that came out about the movie. I talked the movie to death with other fansites on a weekly podcast and daily on Skype. We analyzed every still, every frame of every trailer, and prepared ourselves for its release in March.
We were invited to the world premiere at the Nokia and got to watch the movie with the cast, crew, and hundreds of other fans. But when the lights came on after it was over, and everyone around me was gushing, I felt slightly sick. I was so disappointed. Since then, I've gone through a roller coaster of opinions and now months later, I feel it was a decent film adaptation, but ultimately feel the true heart of the book didn't make it. But back then, everyone was so fixated on the joy of how big the movie was becoming that it felt wrong to be disappointed. When I finally did feel brave enough to voice my discontent, I found that tons of other fans felt exactly the same way.
Ender's Game has always held a special place in my book heart. The little boy who lost his childhood in order to save the world made me feel so many things when I was a teenager. Sympathy. Heartache. Pride. Love. Loss.
I've talked extensively on this site about the obvious changes to Ender. He's now 10-12 instead of 6-10. I've had a long time to come to terms with this change, which is probably why you'll find so many of my editorials in support of his "new" age. The set visit that Summit treated the fansites to in May made us aware of yet another glaring change, one that I have become increasingly wary of because I think it has the potential to alienate a lot of book fans if it isn't pulled off perfectly.
We have to expect changes. Big ones and small ones. We have to expect omissions and new scenes as well. This is a film adaptation, so a large percentage of the book will be cut out. For instance, from looking at the casting list, there's no Shen. Hot Soup isn't listed either. I think most people would agree that there's probably little to no room for Locke and Demosthenes.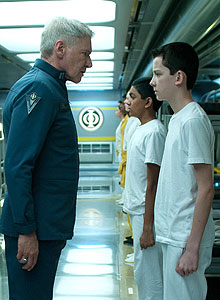 What Asa Butterfield and Gavin Hood have to do is get the audience to love him. Despite Stilson, Bernard, and Bonzo. People have to be able to love Ender. And yet that's just part of the ultimate goal. Yes, we need stunning graphics, exciting Battle Room scenes, perfect chemistry between Ender's friends, a kickass score, and great performances as well, but in the end I think it comes down to preserving the hidden truth about the final battle.
If you think about the ending and Ender's final test, it seems rather difficult to hide the twist from both the audience and from Ender, but I think this is the only way they can capture the heart of the book on screen. That grand deception is what serves as the platform for our overwhelming sympathy and love for Ender. A genius made into a weapon. A child tricked into the worst act imaginable. A boy made into a monster.
Going back to The Hunger Games, to me the heart of the book rested in the last quarter of the book. An emotionally and mentally broken Katniss Everdeen just barely holding it together. And what came out in the theater was a tough girl shrugging off the horrors of the Arena and almost casually dismissing everything that had happened. She was a heroine and that was what director Gary Ross wanted to accomplish. But the Katniss that mattered didn't emerge and as a result, moviegoers who hadn't read the book lost out on all that emotion and never really got to see what is truly the heart of that story.
There's no doubt people fell in love with Jennifer Lawrence as Katniss. It was hard not to. But her Katniss was only part of book-Katniss. She needed the right scenes to truly bring the full potential of movie-Katniss out. And in the end, whether by editing or by writing, audiences never got to see that Katniss. In the book, you couldn't help but wonder at how young and vulnerable she was and think, "Look at what they did to her." In the movie, it was as if she could take down the world all by herself.
Asa Butterfield's Ender will need the right scenes as well. I have no doubt he'll be able to play a great Ender, but without that last scene in which he finally becomes aware of what they've tricked him into doing, the book's heart is lost. You have to be able to see that look of betrayal in Ender's eyes. You have to see his pain and think, "Look at what they did to him."
If they can accomplish that and place all the other little pieces that make a movie great all around it, they'll have succeeded in my eyes and hopefully for all other book fans as well.