Tyranny of Style talked with Ender's Game costume designer Christine Bieselin-Clark and she talked about some interesting things such as the budget for the film, which was around $4 million. We already know how complicated the flash suits and helmets were, but still, wow!
The level of responsibility and accountability that comes with heading a department is gargantuan. You're talking millions of dollars. Our costume budget on Tron was over $10 million, for the costume department. The costume budget on Ender's Game was close to $4 million. The level of stress that you have for being accountable for not only bringing something visionary and interesting- a design that the director, producer, and the studio are jazzed about, but then executing it on time and on budget that's what the designer wears. As the assistant designer, though you're fully invested and responsible for those things as well, it's not your plan, really. It's not your designs. There is a level where you can just kind of take a step back and be a worker bee. Whereas going in and being the designer you really have got to be on your toes 24/7.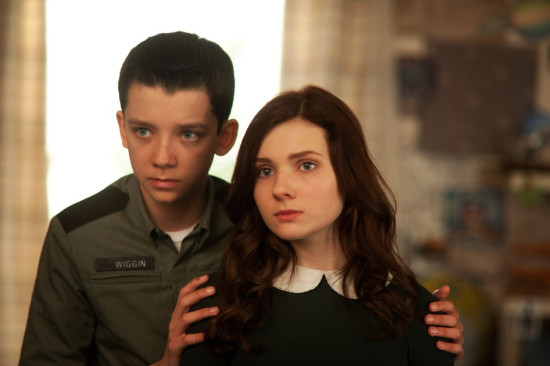 She also talked a bit about why she chose Valentine's outfit, something I found particularly interesting because I felt like Valentine's clothing contributed a lot to the character Abigail brought out in the film.
[M]y future is an amalgamation of some iconic things from different time periods. Like I have a Peter Pan collar on Valentine and this Mandarin kind of stand collar on things. You take kind of things that our mind's eye will recognize from other times and you put them all together and you make a new time. That's sort of what we did aesthetically. And there are other reasons behind those things. You want to create an innocent childlike feeling to Valentine, so that's why you give her the Peter Pan collar. I don't really have one thing, because it was such an amalgamation, a mish-mosh of all kinds of different time periods.
Clark describes in detail how technologically advanced the costume design was for Tron and that this actually prompted her to go the other way for Ender's.
[W]hen we went into Ender's Game I didn't want to use foam latex. I didn't want to sculpt anything. I wanted to go the other way. So on Ender's Game, the suits that we made are actually fabricated with normal pattern making and draping. The materials we used were technologically advanced. And we made materials, but the suits them self are patterned, drafted, cut, and stitched.

We did most of it in our department. The department started in Los Angeles and then we migrated to New Orleans. So we had a lot of in house people doing the pattern making and drafting. And then Quantum, the company I had worked with on Tron, mass-produced the suits for us. So we did a prototype in house and then they did the mass-production. There are some sculptural elements like the body armor pieces on the shoulders and the helmets- they did all of that stuff for me also. The helmets we did do exactly like Tron. We did sculpt them digitally and grow them. It's easy to do with hard stuff. The hard parts are easier to grow and 3D print than anything else, I have to say.
I have to admit, even with the Sandboxr ship sample I got, I still don't know what 3D printing is or how you "grow" a helmet. I'm going to have to go find a video with the process.
Read the full interview at Tyranny of Style.