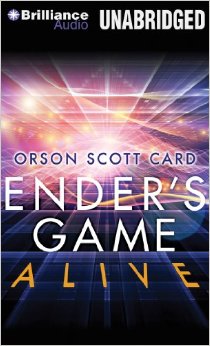 Ender's Game Alive, a six-hour audioplay written by Orson Scott Card and voiced by a full cast of vocal actors, is out today on Amazon and Audible.
Experience Ender's Game as you've never heard it before! With an all-new, original script written by Orson Scott Card, Ender's Game Alive is a full cast audio drama that reimagines the Hugo and Nebula Award-winning classic.

Ender's Game Alive puts you into Battle School with young Andrew "Ender" Wiggin, as he trains to become the general who will lead Earth against the Formics, the alien "buggers". Removed from his family at the age of six, Ender must prove his strength and his leadership, even as he fights his own doubts. The stakes are nothing less than the fate of humankind.

Ender's Game Alive is performed by Kirby Heyborne, Stefan Rudnicki, Theodore Bikel, Scott Brick, Samantha Eggar, Harlan Ellison, Susan Hanfield, Roxanne Hernandez, Janis Ian, Rex Linn, Richard McGonagle, Jim Meskimen, Emily Rankin, John Rubinstein, Christian Rummel, and a full cast.
If you are not an Audible customer, you can listen to Ender's Game Alive for free with a 30-day trial membership.