We Launchies have it easy. We sit here, look at everything Summit gives us to do with Ender's Game, critique, nerd-out, etc. But just how does one go about building Ender's world? That's all I could think about sitting in the dark barracks (the lights were no longer working) waiting to talk to Sean Haworth and Ben Proctor, set designers for Ender's Game.
I mean, I was sitting in a Battle School Army barracks. I'd walked through a massive metal hallway to get to it. There were bunk beds to sit on, lockers to go through, and actual ladders to climb to the top bunk. Where does one start with such a freakishly daunting task?
The two wizards who made it happen sat down on bunks across from us and happily chatted about how they'd ended up on the crew. Proctor told us an amusing story of how he'd cold emailed author Orson Scott Card asking if a movie was going to be made. It made me laugh inside. He was a curious, anxious, impatient fan like me. Only his job was a whole lot cooler.
When NASA workers were cleaning out the warehouse space for them to work in, they began to dump a lot of materials. Materials which would prove invaluable to a pair of sci-fi set designers. "We heard about it and we went down there and we saw them moving all these beautiful boxes of bolts and connections and hoses and we basically just stopped them. We started ripping everything off of there." Haworth recalled.
"Can we have this?"
"Oh no, it's junk."
"No, no, no it's not junk, it's good!"
They spent a whole day rifling through the stuff scheduled for recycling, since there's a specific life span for the parts. Things like bolts they were able to keep, but larger pieces such as brackets all had to be accounted for and returned. Still, having access to a NASA "junkyard" meant scavenging $80 titanium bolts, which can't be a bad thing. For anything else they needed, they would cast and replicate.
When they first met with director Gavin Hood, he already had a pretty firm idea of what he wanted and it was clear to him why some of the choices were made, such as limiting the school to only one Battle Room. "If you think about the number of kids that actually are involved in this many armies or a number of armies it's actually manageable to digest in the context of the movie, the station doesn't need to be that big with multiple battle rooms." explained Proctor. "There's just no need for that much overhead."
Proctor explained to us some of the mechanics behind the glass shield around the Battle Room and how an orbit around Earth only takes 45 minutes, which meant the lighting in the room would change pretty rapidly during a battle. A satellite engineer pointed out that with that design, the sun would cook the kids instantly at certain parts of the day, so they will make it so that during those times, the glass is clearly protected by some kind of metallic sheen that represents a reflective coating.
When it came to the interiors of the school, Proctor admitted that there's definitely a common look when it comes to space ships and they wanted to keep that while still looking fresh and real to people. It was a matter of striking a balance so that they weren't being technologically slick just for the sake of it. "It should be more like […] being sent off to something that looks like something NASA would make in seventy years."
Ships that dock with the school attach to the surface, though that wasn't something that sat very well with self-proclaimed super geeks like Haworth and Proctor. "We'd be like, "It wouldn't be like that. Have you seen 2001?" There's a reason they go to the center, because it's really easy to match orbit!" Proctor admits that ultimately it didn't matter though, since Hood had creative prerogatives that they had to adhere to. "It does latch on to the wheel and kinda flow around in this elegant new way of making it attach, so it doesn't go into a hole, it actually just docks. We actually invented this sort of robotic mechanism a teeny bit like the canadarm on the shuttle, one of those arms that come out and catch it in a sense and click it into place as it now starts to flow with the station and spin around."
For lighting and the color palette of the sets, Haworth said that Hood had a very set idea on the color progression of the film. Earth and Battle School representing humans would be mostly blues and greys with splashes of color for the armies and then eventually they would transition to the amber tones of Eros where the Formics used to live. And indeed, you can see the stark contrast of humans in a Formic environment in scenes in the trailer.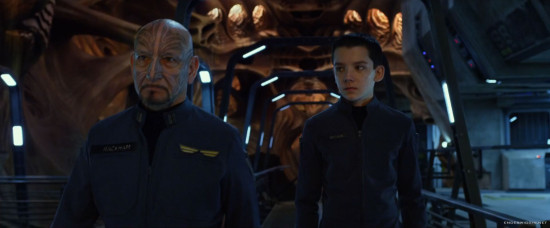 And while it may not have been executed perfectly, audiences should be able to unconsciously follow the color changes. "You know who's who. You have an overall sort of color arc or color script of the movie."
The gate and staging area were their personal favorite sets, with Proctor saying that his choice was purely on a craft level. "That was probably the most well executed set."
While the book may have implied a lot of potential scenes for Formics, the majority of what we see of the aliens will be in the construction; their caves, their ships. Designing and constructing the Formic sets required the help of many different designers including their lead sculptor, who had done a lot of research on his own.
"Ender will discover his enemy essentially through his environment so we had to convey a certain sense of beauty and elegance to get him to try and understand who he was and who he's destroying." said Haworth. The main thing was to convey creative continuity, since Formic structures would have been constructed with thousands of hands of the queen.
An interesting parallel between production and the Formics came with the 3D printer that was available as a prize at the Ender's Game Experience. "They would kind of just swarm over something just licking it and creating it layer by layer by layer and that's where this striation comes from. So it's kind of cool, licking a spacecraft into existence." joked Proctor. They used the printer to make some things for the set and the printer worked in a way that reminded him of how Formics would have built. They even featured a small printer in Ender's room on Earth.
In addition, with the Formics came a sort of religious analogy with a Formic cathedral set that they hoped to incorporate into the film, but it ultimately was too complicated to integrate an alien religion into the film and so they changed it to be part of the mind game. It sheds some light on how they've changed Eros in the film. "It switched identities into being more of her nursery which gave us opportunities that it didn't have before, to have dead kids essentially." said Proctor. "When we came and bombed Eros the mind game became something different. The mind game became a memory, a multi-bodied memory of what the queen had of what it was like to be bombed, to be scared and to run into the cathedral, and then have it get collapsed on top of you. That's the whole story that really happened on Eros."
With what he's saying, it definitely sounds like Eros has become the setting for the ending scene with Ender finding the real mind game scenes made for him somewhere on the planet. It's an understandable change since the movie's timeline had to be condensed. Proctor confirms it by explaining the reasoning behind the change, "If we don't really get to go to the Formic planet ever, then how do we go to one of their spaces? And that was the answer, was Eros is not an asteroid with little tube holes in it, it's a proper planetoid with an atmosphere that would look a bit like the formic home planet. It gives you a preview, it gives Ender a preview, of what their world and their society really feels like."
One of the producers also confirmed that it may intentionally be called something else, such as Command School, so it's not clear yet whether we'll actually hear it referred to as Eros.
I asked if, since they were book fans, if it was any harder to break down these sets than any others. While Haworth said that it happens all the time to them and that they can't get too attached, Proctor did admit it was sad. "The good news is that hopefully the gate, if all goes well, that the gate you just saw will be the Comic Con booth in 2013, so everyone will get to experience that directly."
We all know now that everything did go well and fans were able to experience that and much more for themselves!
In closing, they commented on how fun the project was for them and how great their work environment had turned out to be. "It's rare that we have this kind of dedication from a crew. Every plasterer, every painter, every carpenter was giddy. We almost had the pick of the litter where everyone wanted to work on this. Pretty much everyone we talk to is [a] serious fan."
Stay tuned for our final two reports coming out later today with stunt coordinator Garrett Warren and Sir Ben Kingsley.