This past week had half the cast in a flurry over San Diego Comic Con. It looks like almost everone is attending!
According to the official Comic Con page, Suraj and Aramis as well as Jimmy Pinchak, Conor Carroll, and Cameron Gaskins are going to sign autographs on Saturday around noon (drawing of line tickets is around 9am), while the Thursday panelists (sans Harrison Ford) are scheduled to sign on Thursday morning.  Good planning, Comic Con! It's not as if the Ender's Game fans will be waiting in line in front of Hall H at that time!
What I find interesting is that Brandon Soo Hoo, Khylin Rhambo and Moises Arias (both unconfirmed) seem to be going to San Diego, but aren't part of the official line-up. What's with that? Are they just going to hang out around the premises? Or is there some secret project they are involved in? (Ender's Game Experience, anyone?)
Hailee Steinfeld and Asa Butterfield are also preparing for the big event. But while for Hailee things are going according to plan, Asa had to endure a few setbacks (read tweets from bottom to top) before he arrived safely in LA this morning.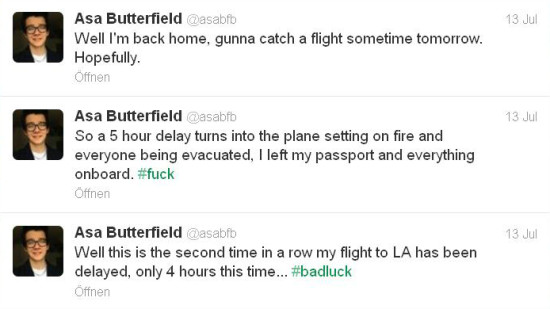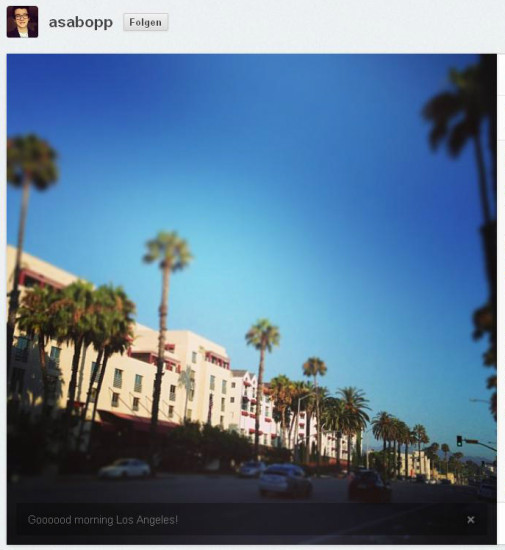 According to his Twitter, he is going to meet up with his friend and Hugo co-star Cloe Moretz while he's there.
Earlier last week, when things were still a bit less hectic, Asa enjoyed a beautiful day in Sheffield, while Aramis went for some recreational Lasertag. Be careful, Aramis, your Bean is showing!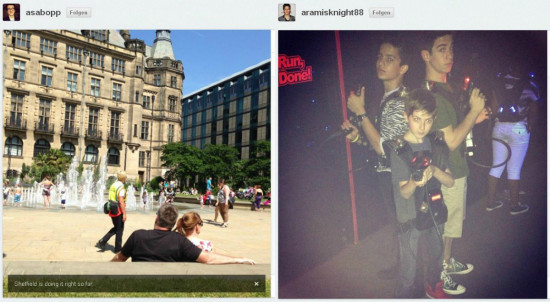 On a personal note, I'm happy to announce that two of my favorite fandoms are finally converging on each other, as Suraj Partha has become addicted to Doctor Who! I know your pain, Suraj. Now go spread the word!