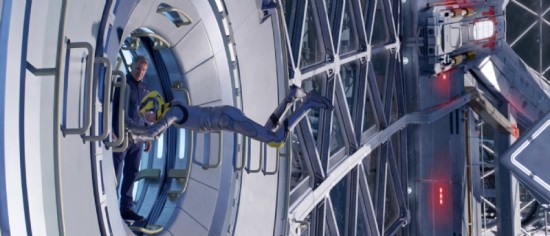 Let this be a lesson to me that the next time I hit the snooze button on my phone alarm, I should check email first. Haha!
Empire Online has just released a new still from Ender's Game showing Ender in the Battle Room with Graff watching nearby. We get a really amazing look at the gate from the inside along with a better idea at just how massive the Battle Room is.
Empire spoke with Asa about the Battle Room scenes. Some of it we've heard before, some of it we haven't, including the Battle Room scene he's most proud of.
During their training, Ender and his unit take on a lot of other teams in the Battle Room. Any stunts you're particularly proud of pulling off?

There's a really cool sequence where I'm sort of spinning over backwards and I let go of my guns. They're floating by my side just going along. As I push myself through these two stars, I spin back over and grab the guns, then shoot the people around me. I loved doing that.
He also mentions that they spent a month and a half filming scenes in the harness, which should be comforting for fans that were concerned by something author Orson Scott Card said last year at a book signing that one scene in the Battle Room is too many.
Source: Empire