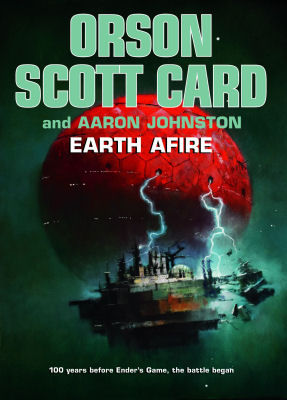 Earth Afire, the sequel to last year's Earth Unaware, is co-authored by Orson Scott Card and Aaron Johnston and arrived in the mail from Tor last week. Even though I'm still on Shadow of the Hegemon, I cracked it open and started it right away, finishing just a few days later.
The book picks up right where Earth Unaware left off, with Victor Delgado trying in vain to spread the word of the alien ship rocketing towards Earth. We're introduced to two new storylines with young little Bingwen in China and finally a storyline focusing on Mazer Rackham. All three of the original storylines (Lem, Wit, and the El Cavador) are present, though El Cavador has split into Victor and the El Cavador survivors. This fragments the novel into six storylines.
Bingwen is seven years-old and a very bright student, living in a very rural rice growing village in Guongdong Province with his parents and Ye Ye Danwen (his grandfather). His only access to computers is limited to the village library and Bingwen, along with his best friend Hopper and cousin Meilin, are all anxiously awaiting the time when they can take tests to go to school and leave their village for a better life. This all changes once the alien ship arrives.
Mazer Rackham, who was previously MIA for most of the previous book, re-emerges with his New Zealand SAS team as they head to China to help train their soldiers to use a new type of aircraft called a HERC.
Having just been given this long assignment overseas, Mazer must make a choice on whether to attempt to start a life with Kim, an American doctor working in New Zealand on a device called the MedAssist, or to break ties with her now to allow her to live a happier life. This felt like rather depressing foreshadowing for choices Mazer would have to make later when he leaves on a ship in order to return to train Ender.
The story with Lem Jukes continues as Lem races home towards Luna to try to help Earth destroy the alien ship. He struggles internally with his relationship with his father and while it's clear Lem is sharp-witted, it's still unclear to me whether Lem is simply blinded by his rocky relationship with his father or if everything he perceives is truly how things stand. Because his desire for control of Juke Limited seems like such an important endeavor, it's also a bit muddled as to how sincere his motivations are when it comes to the Formics. Perhaps this is simply how he must be as he deals with two major events in the present all while looking to the future.
The El Cavador storyline continues through Rena Delgado, who has recently lost her husband on the explosion of the El Cavador and has said goodbye to her only son Victor as she sent him off on a long and dangerous mission to Earth. She struggles to keep the women of the ship together in the aftermath of the failed attack on the Formic ship.
With six storylines, the book does struggle a bit with pacing, ending with interesting cliffhanger chapters that don't pick back up for many pages. The six do converge into three again after the Formics land in China and begin razing surrounding civilization to the ground.
That being said, Bingwen was a delightful addition to the storyline, and one gets the sense that this young child will be one of or possibly the sole reason why Battle School is eventually formed.
I am still very confused by Card and Johnston's choice of focus on Wit O'Toole instead of Mazer's team in the first novel Earth Unaware. I thought it would be made more apparent why they chose to do this but Wit's MOP storyline doesn't appear until around halfway through the book and even then it didn't seem to merit the attention they were given. You just get dropped straight into Mazer's storyline without notice, leaving you unfamiliar with and therefore not really caring much about his intimate NZSAS team. In my opinion, these characters would have benefited a lot more from background storytelling while the MOPs journey into China could have appeared without the pages dedicated to them in book 1.
VAGUE SPOILERS AHEAD
Overall, Earth Afire was just as good as Earth Unaware, with added action when the Formics land in China and the fight for our planet begins. My main fault with the book lies in the cliffhanger ending, something that as a reader drives me completely up the wall.
It should be noted that I feel there is a very big difference between an open ending and a cliffhanger ending. With Ender's Game, we're given a grand finale and then a sense of closure, yet another door is opened. Harry Potter was very clearly a series of books, but Jo Rowling carefully compartmentalized her novels making sure the reader knew more was to come.
Earth Afire simply cuts you off just as what you perceive to be the climax is about to begin. It would be like Harry Potter and the Half Blood Prince ending just as Harry and Dumbledore set off across the lake full of Inferi. It's like The Empire Strikes Back fading to black as Luke walks into the dark room to face Vader.
As a reader, I find this very jarring and frustrating. For that reason I'm almost inclined to recommend that people who haven't yet picked up this trilogy wait until Earth Awakens is released next year. The books have not disappointed in character and content, but the point at which this book ends leaves a whole lot to be desired.
Earth Afire will be released on June 4, 2013. Watch the book trailer here.
This book was sent to me by Tor Books. I was not paid to write this review. The opinions expressed above are my own.