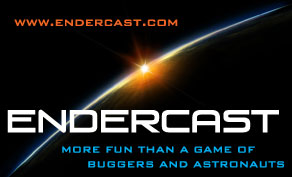 This week's episode of EnderCast is our 10th episode, woo hoo!
We titled the episode this way after hearing reports that Graff says humanity is looking for A New Weapon to defeat the buggers. We talk about the trailer again, dissecting the things we heard coming out of CinemaCon where a theater full of lucky people got to see it early.
Topics discussed:
Happy Birthday Moises and Abigail
Harrison Ford on Jimmy Kimmel – video here
Lionsgate presentation, Harrison's quote
Harrison Ford doing a Q&A – video here
Trailer shown at CinemaCon, reactions from the web
Collider interview with Asa, scene with Petra
Listen to the episode here.