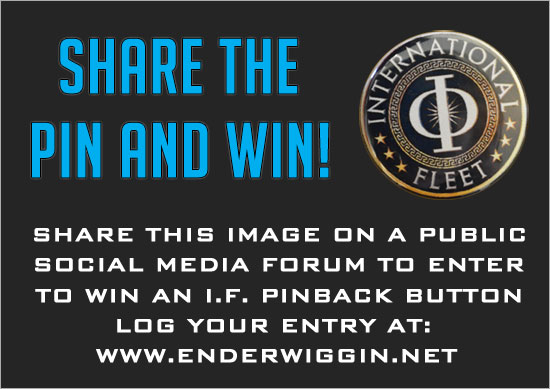 Reports have been circulating that the trailer could be online as early as next week, but I confirmed with Summit that this is not the case. Since that confirmation was met with a lot of "Nooooo!" remarks, I decided it would be a good time to finally give away some of those I. F. buttons I teased on Twitter last week. As of right now, the only confirmed news is that the trailer will debut in theaters on May 17 with Star Trek: Into Darkness.
Also, just to note, I'll draw the winners for the Posterpalooza soon!
To enter to win an IF pin, simply follow the instructions above. Post the image above on some a public social media (Facebook, Twitter, Tumblr, Pinterest, Instagram, G+, MySpace) and then come back here and log all your entries into the Rafflecopter widget below. You must log your posts/shares here or you will not be in the pool of entries to win.
Unfortunately if you have your privacy settings set so that non-friends can't see, you'll have to use another medium to enter. You can have one entry for each different social medium. For those of you that don't use any of them, simply comment below and tell me why you want the pin.
I have 3 pins to give away for this one and will continue to give them away as we get closer to November, so this won't be your only chance to get one! Open worldwide and closes in a week!
Please note that these buttons are homemade and not official Ender's Game merchandise.