Some of you may have seen a leaked image last Friday of the first Ender's Game and stuff like that is always a little unfortunate because while we're all starved for Ender's Game stuff, there's always that disappointment at seeing something not as we were intended to see it.
Thankfully, director Gavin Hood has an official teaser of a teaser (I love saying that!) on the Ender's Game production blog for us to drool over until we get to see the poster ourselves in theaters. He's also given us some insight into his own personal tie to the story of Ender Wiggin.
It's been four years since I first began writing a screenplay based on the classic novel. I love the book. And I especially love the character of Ender Wiggin. I was drafted into an army myself at 17, and Ender's journey of self discovery – his battles with authority figures he does not trust and his development as a leader – are themes I strongly relate to.
Here's a look at Ender's feet at the edge of the gate to the Battle Room: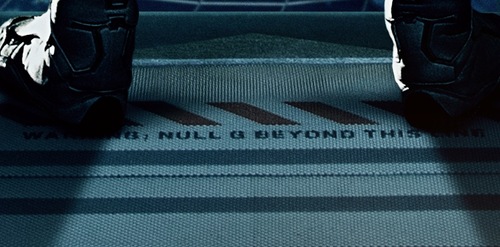 We are now well into post production and the famous zero gravity battle room scenes are looking fantastic.

[…]

And today we are looking at battle room scenes that will blow your mind!
To read the full entry, head over to the Ender's Game Blog.
What do you guys think? Tomorrow we'll get to see the whole thing unveiled via Yahoo! Movies, so be sure to keep your eyes on Yahoo tomorrow!