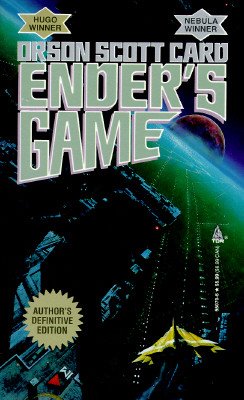 Apparently the term "oldie but goodie" applies to the book Ender's Game, which according to Publisher's Weekly, was the top-selling science fiction book of 2012. The book not only topped the genre, but outsold the 2nd listed book by almost 200%.
Science Fiction

1. Ender's Game by Orson Scott Card. Tor. 100,387
2. Ready Player One by Ernest Cline. Broadway. 50,593
3. Star Wars: Darth Plagueis by James Luceno. Lucas Books. 31,543
4. The Ultimate Hitchhiker's Guide to the Galaxy by Douglas Adams. Del Rey. 27,220
5. Star Wars: Apocalypse by Troy Denning. Lucas Books. 26,140
6. Dune by Frank Herbert. Ace. 25,532
7. A Rising Thunder by David Weber. Baen Books. 25,348
8. HALO: The Thursday War by Karen Traviss. Tor. 24,936
9. HALO: Glasslands by Karen Traviss. Tor. 24,932
10. The Hitchhiker's Guide to the Galaxy by Douglas Adams. Ballantine. 24,120
Perhaps news of the movie has re-ignited interest in the novel, as that seems like quite a few copies to sell for a book that's heading into its 28th year in publication.
It should be noted, however, that this list likely only lists statistics for print editions. The self published science fiction e-book Wool by Hugh Howey is nowhere to be found on the list, despite its explosion into the science fiction genre last year. If you're a fan of Wool, be sure to visit my fansite for it: The Down Deep.
Source: Publisher's Weekly via OSC's Twitter