Thanks to Summit, we now have the unwatermarked version of the first official still. The image has been uploaded to the EnderWiggin.net Gallery.
With a hi-res still, we can do a better analysis of the details of the image including something Kelly and I talked about on the premiere episode of EnderCast: Graff's shoulder pin.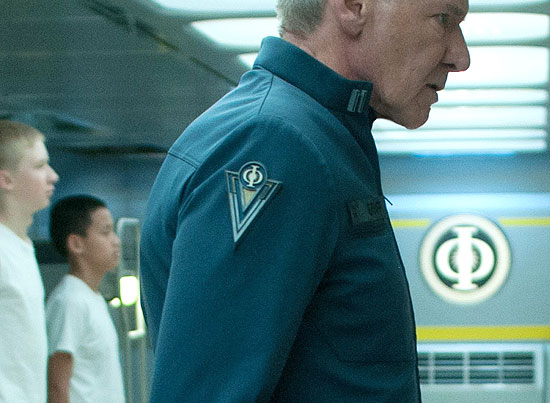 As you can clearly see, his pin does indeed have the IF Phi on it. As mentioned on the EnderWiggin.net Facebook, it's possible we'll be sitting in line for midnight premieres of Ender's Game on Halloween 2013! Any cosplayers out there ready to start making their IF costume for SDCC? I know if I knew how I would be!
Another thing to note about the still is that you can now clearly see that there are six people standing on the same side as Ender, which makes it safe to assume that there are only 12 launchies to a barracks, since the soldiers are standing on numbers starting from 01 with the girl in yellow on the left and then going to 02 under Ender's feet. There also appears to be an additional girl on Ender's side of the barracks.
Pick up any other details? Comment and let me know what you find!