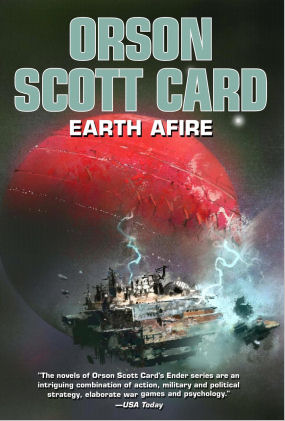 This past July, I reviewed Earth Unaware, the Ender's Game prequel novel by Orson Scott Card and Aaron Johnston. The book did a lot of foreshadowing for Ender's Game and was, in the end, an enjoyable read for me. The only problem was that it was obviously incomplete and felt more like a "Part 1" than a "Book 1". Thankfully, the next book is slated for release next June.
Titled Earth Afire, the book picks up right where Earth Unaware left off. The synopsis is below and contains SPOILERS for the first book.
100 years before Ender's Game, the aliens arrived on Earth with fire and death. This is the story of the First Formic War.

Victor Delgado beat the alien ship to Earth, but just barely. Not soon enough to convince skeptical governments that there was a threat. They didn't believe that until space stations and ships and colonies went up in sudden flame.

And when that happened, only Mazer Rackham and the Mobile Operations Police could move fast enough to meet the threat.
Earth Afire can currently be pre-ordered on Amazon.com.
Source: SF Signal