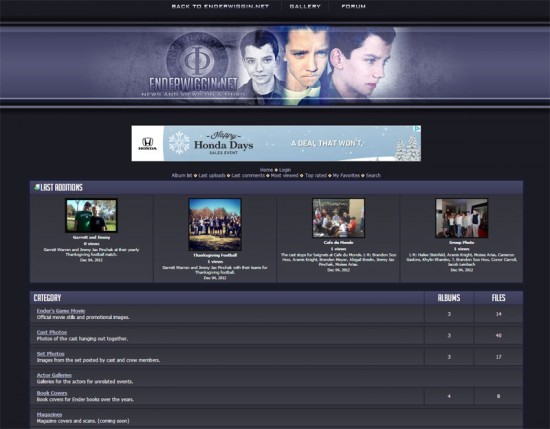 I'm happy to announce that I've opened up a new gallery for EnderWiggin.net, one that's much easier to navigate than the previous gallery. I hope to have a lot more to add to the movie section over the coming year as we get closer to the movie's premiere.
To those wondering, none of the images used in the banner are official stills from the movie. They're photos from events and the set. Hopefully I'll be able to get it re-designed with official cast imagery soon, but until then I hope you like the design.
All images are tagged with the actors' names and when movie stills begin to come out, those will be tagged with the character name as well, enabling you to search for specific people and pull up all uploaded photos of that person.
If you have photos you'd like to contribute or would like to submit a correction, you can email them to valentine@enderwiggin.net.