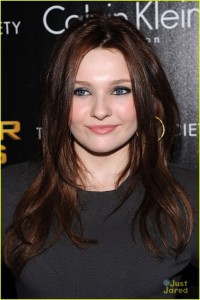 Abigail Breslin, who plays Valentine Wiggin in Ender's Game, recently attended a secret screening for Lionsgate's big blockbuster The Hunger Games in New York City. The young actress tweeted recently about having fun filming:
"Had so much fun filming #endersgame with @asabfb @andipowell @jimmyjaxpinchak @ImNotMoises @AramisKnight88 @surajpartha @bsoohoo @Khy_Rhambo Connor, the director Gavin and the whole amazing crew! :)"
Since Valentine has only minimal scenes, it sounds like she's already wrapped her portion of filming, especially she's been tweeting how much she's missed them since departing on March 13.