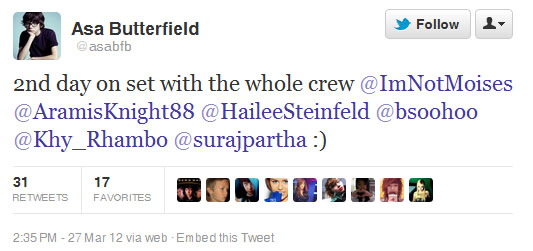 From the sound of tweets from the actors currently on set of Ender's Game, production is likely working on Battle School scenes.
Star Asa Butterfield tweeted that he was on his second day on set with his toon leaders Bean (Aramis Knight), Petra (Hailee Steinfeld), Fly Molo (Brandon Soo Hoo), and Alai (Suraj Parthasurathy) along with his friend Dink (Khylin Rhambo) and stern commander Bonzo Madrid (Moises Arias).
What do you think they're working on? Battle Room? Mess hall? Can you picture them all watching him play Giant's Drink?
So far there's been no further updates to the production blog that launched a week ago on Tumblr.