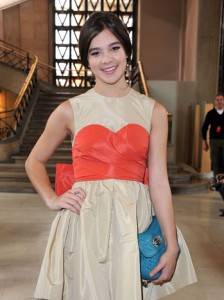 According to The Hollywood Reporter, the young star of last year's True Grit is in talks to join the cast of Ender's Game.
Although she was nominated for an Academy Award, Steinfeld has yet to follow up her stunning performance with additional work, but this role would put things back in motion for her in February of next year.
Steinfeld is negotiating for the role of Petra Arkanian, Ender's lone female soldier in Dragon Army. Ender first meets Petra when he arrives in the Battle School and the two children become friends, training together for years.
What do you think of her being Petra? There's absolutely no doubt she can act and she's only slightly older than Asa Butterfield, who looks younger than his 14 years, so their youthfulness matches up nicely with the books.