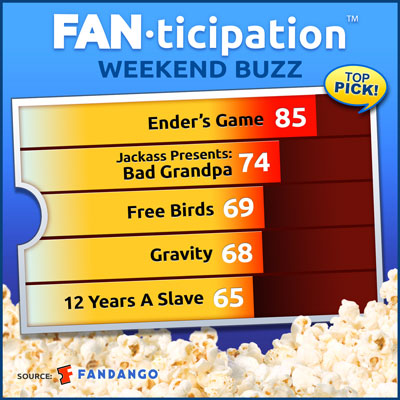 Fandango has just issued a press release announcing Ender's Game as the #1 film fans want to see this weekend. Buy your tickets NOW!
LOS ANGELES – October 31, 2013 – According to Fandango, the nation's leading moviegoing destination, "Ender's Game" is the #1 film that fans want to see this weekend, scoring 85 out of 100 points on Fandango's Fanticipation movie buzz indicator.  The sci-fi action-adventure epic is leading the weekend's releases with strong ticket sales, outpacing Tom Cruise's "Oblivion," Matt Damon's "Elysium" and Guillermo Del Toro's "Pacific Rim" at the same point in their sales cycles.
A Fandango survey of "Ender's Game" ticket-buyers revealed that:
94% consider themselves Harrison Ford fans;
71% are already looking forward to a possible sequel;
53% have read the 1985 novel.
The critically acclaimed "12 Years a Slave" goes into wider release this weekend, and has entered the top-five on Fandango's Fanticipation chart.  According to a Fandango poll of "12 Years" moviegoers:
89% claim the supporting cast (Brad Pitt, Michael Fassbender) boosted their interest in seeing the film;
57% said they're more inclined to see the film because of its Oscar buzz.
"'12 Years a Slave' is a tough movie that demands to be seen, and its strong ticket sales demonstrate that audiences are always looking for smart, challenging movies, and not just escapist fare," says Fandango Chief Correspondent, Dave Karger, and host of the movie recommendation show, "Weekend Ticket."  Karger adds, "It's also the movie of choice for fans wanting to get a jump start on next year's Oscar front-runners, with likely nominations for Best Picture, Actor, Supporting Actor, Supporting Actress, Director and Adapted Screenplay."
About Fandango's Fanticipation
Known for having its finger on the pulse of moviegoers, Fandango's movie buzz indicator, Fanticipation, provides statistical insight into the movies fans are planning to see in a given weekend. Fanticipation scores (based on a 1 to 100-point scale) are calculated via an algorithm of Fandango's advance ticket sales, website and mobile traffic, and social media engagement.  Fanticipation is not intended as a forecast of the weekend box office; it is a snapshot of movie fan sentiment.