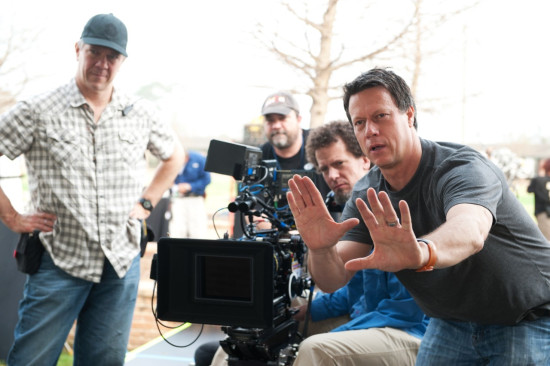 If you're a longtime fan of Ender's Game like me, watching hopefully and wistfully from the sidelines as the years and decades went by, you've probably wondered just what in the world was going on that it took nearly 30 years for NovEnder 1st to arrive. Even with my involvement as a fansite, I've never known exactly how it all went down and I've always wanted to know.
Today, Grantland's Matt Patches posted an incredibly insightful piece documenting the long journey Ender's Game took through the Hollywood circuit and why all the right pieces had to fall into place in order for them to make the film that I saw (and loved) just two days ago.
Ender's Game was published in 1985. The film adaptation Hood was told would never happen arrives in theaters this week. What happened in between makes Ender's Game a rare Hollywood miracle. Sifting through the timeline, Card's cynicism had merit — Hood wasn't the first guy to try his hand at adapting the sci-fi book into a blockbuster. He wasn't even the fifth. Producers and studios have been trying ever since Card's book was published.
The piece then goes on to describe all the reasons why it never worked out in the end with studios, directors, producers, writers, and executives. They even had D.B. Weiss and David Benioff working on it at one point!
In May 2002, Chartoff made a deal with Warner Bros. to finance and release Ender's Game. Almost instantly, their team found "the guy": Wolfgang Petersen, just off his hit adaptation of The Perfect Storm. Warner Bros. hoped to combine Ender's Game andEnder's Shadow into one film. At first, Card was the intended screenwriter, but as time passed and Petersen took on one film (2004's Troy) and then another (2006's Poseidon), Petersen's interest waned. Other writers were brought onboard to stoke that interest: Hot off X2 in 2004, Dan Harris and Michael Dougherty took a first pass at adapting the book. Then in 2005, future Game of Thrones writer-producers D.B. Weiss and David Benioff (also a writer of Troy) worked with Petersen to develop another take. Two years later, Card announced he was taking over scripting duties once again.
Patches continues to document Card's involvement and frustration over the development and writing process and just when Card had basically given up, things finally began to come together.
When Gavin Hood told Orson Scott Card that he planned to adapt Card's science-fiction classic Ender's Game for the big screen, the author replied with a familiar refrain: "Good luck, kid." Card was done trying to bring his book to the screen. If someone else wanted to spend years of his life spinning in circles, so be it. But before removing himself from the development process, he left Hood with a bit of wisdom, one the director would hear over and over again throughout his journey: Ender's Game was an utterly unfilmable book.
The second half of the article gives fans an incredible look into how OddLot founder Gigi Pritzker assembled her team of "Ender's Game Avengers" including Bob Orci, Gavin Hood, and eventually star Asa Butterfield.
With the reset button pressed and Card all but out of the picture, Pritzker and OddLot set out to find a team that understood the treasured tome. The key was finding a writer-director who could build the movie from the ground up and carry it to the end, their very own Ender. Pritzker found him in Hood, a South African filmmaker who brought his memories of apartheid and life in the military to the project. After a turbulent experience on the ill-fated X-Men Origins: Wolverine, where multiple writers tinkered with the script on a daily basis in the middle of shooting, Hood craved the immersion required for Ender's Game. He had a vision: a script that would allow a preteen actor to engage with challenging, emotionally raw material. That was all Pritzker needed to hear.

Still missing was Hendee's keystone, a fan who grew up with the novel, a person who would flock to the movie if they weren't involved. Essentially, a visible champion and guide. They found him in writer Roberto Orci (Transformers, Star Trek), who boarded the movie as a producer after regaling Pritzker with his memories of reading Ender's Game at 12 years old. Orci became the movie's Card proxy — a devout fan without a preservationist instinct. When the team felt it couldn't make changes to aspects of the book, Orci would say, "Sure we can — I'm the guy who blew up Vulcan! I know what we can do and can't do."

[…]

Genuine support begat money begat production on a real-life movie, the kind that needed a cast and crew and cameras and sets and lighting and props and wasn't just a promise forwarded around in email. There were more hurdles to jump; finding an Ender was always a frightening prospect for Hood.

"We had a script, we were hoping to make it, but no one was going to green-light us until the right kid was onboard," he said. The director auditioned hundreds of boy leads for the role, some as young as 8 years old, before landing on Hugo's Asa Butterfield.
People say all the time that things happen for a reason and with Ender's Game, that certainly seems to apply. Having seen the film and loved what they did while still staying ultimately loyal to the story, I'm genuinely glad that this is what it took for it to finally be in theaters.
To read the entire piece, head over to Grantland.
Ender's Game hits theaters tomorrow at 8 PM in advance of the official release date of November 1, 2013.