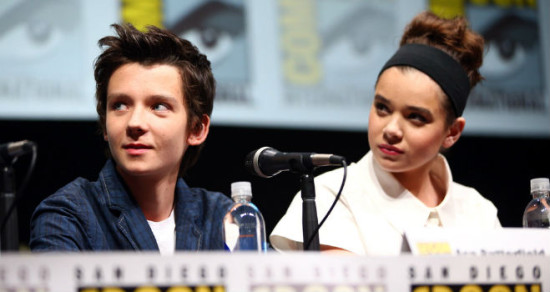 Asa Butterfield and Hailee Steinfeld sat down with Moviefone (as did Harrison Ford) to chat a bit about what it was like to film Ender's Game. They talk about funny moments, the professional atmosphere on set, and the pranks they all (including, it seems, the adults) played on each other while filming. And guess what: the Ender's Game slang from the books made it into the movie!
My favorite part of the interview is Hailee's recollection of a prank Gavin Hood played on her:
At the end of the film, one of the cast members, Moises Arias, who plays Bonzo Madrid, had to shave his hair for the ending scene. You know, it's one of those things where you're OK with it because you have to do it, but it's also like, you know… it's a big thing, right? So Moises handled it very well, but you could see he was a little, you know, taken aback by looking at himself in the mirror and this drastic change. And Asa and I walked on set and Gavin turns around and has a black eye. My heart dropped. I was like, "What just happened?" And he goes, "I told him. I told him that he could take it out on me because I made him shave his head. And I was literally, like, crying. I was like, "Moises would never do that. What's happening?" And then they were like, "Just kidding! It's makeup!"
Read the entire interview HERE!
Source: Moviefone