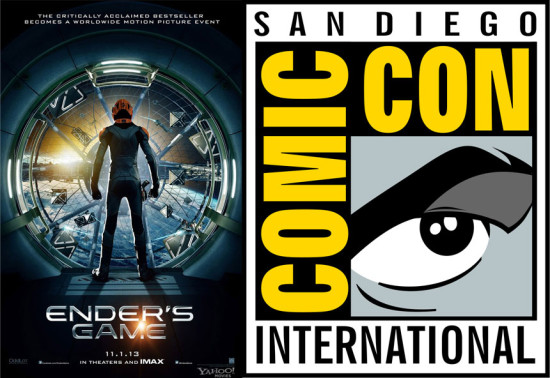 Ender's Game fans heading to San Diego Comic Con next month have a lot to look forward to! Summit Entertainment has just unveiled their Ender's Game plans for the convention and it is a doozy. See the press release below:
Summit Entertainment will showcase the studio's highly anticipated film event ENDER'S GAME at Comic-Con 2013, presenting never-before-seen new footage, appearances by cast members and filmmakers, and several massive, interactive fan events. A full slate of activities related to the film to be unveiled at this year's Comic-Con, including:

Hall H Panel – The studio's panel on Thursday, July 18th will feature ENDER'S GAME filmmakers and cast, including producer Bob Orci, director Gavin Hood, and cast members Harrison Ford, Asa Butterfield, Hailee Steinfeld and Abigail Breslin.

Exclusive Fan Experience – Attendees will be able to visit an elaborate, specially constructed ENDER'S GAME exhibit outside of the Hilton Gaslamp, featuring 8 unique rooms representing the most iconic environments of Ender's world, complete with original film props and set pieces used in the movie.  Throughout the experience, attendees will be able to see exclusive film footage on LED screens, interact with new digital content, integrate photos of themselves into the highly anticipated Battle Room, and register to win a home make over.

Convention Floor Booth – Summit Entertainment's booth located within the Grand Hall will highlight ENDER'S GAME footage. Premium promotional items will be distributed to the 120,000 attendees walking the convention floor, and booth visitors will be given the opportunity to win "fast passes" to the ENDER'S Game Exclusive Fan Experience, granting them entry without having to wait in line.

ENDERS GAME Film Information:

Based on the best-selling, award winning novel, ENDER'S GAME is an epic adventure directed by Gavin Hood starring Asa Butterfield, Hailee Steinfeld, Ben Kingsley, Viola Davis, with Abigail Breslin and Harrison Ford. In the near future, a hostile alien race has attacked Earth. In preparation for the next attack, the humans begin training only the best students to find their future leader. Ender Wiggin, a shy, but strategically brilliant young man is pulled out of his school to join the elite. Arriving at Battle School, Ender quickly and easily masters the training, distinguishing himself and winning respect amongst his peers. He is soon ordained as the military's next great hope and is charged to lead his fellow soldiers into an epic battle that will determine the future of Earth and save the human race.

OddLot Entertainment, K/O Paper Products, and Digital Domain are production partners on the film, with Roberto Orci and Alex Kurtzman producing via their K/O Paper Products banner, Gigi Pritzker and Linda McDonough producing via OddLot Entertainment, along with Orson Scott Card and Lynn Hendee.
If you live in the San Diego area but don't have tickets, you seriously need to consider heading down to see the Fan Experience. I mean look at it. EIGHT rooms of sets? Exclusive footage? And this is outside the convention, meaning you don't need a Comic Con badge! That's like a free set visit right there!