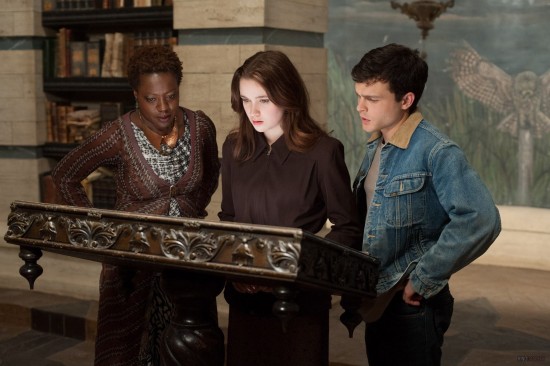 Viola Davis, who is starring in the young adult film adaptation of Beautiful Creatures out this weekend, is doing the rounds with press and during an interview with Collider, mentioned again how Harrison Ford makes her starstruck. Davis previously mentioned in an interview that she kept wanting to tell Ford how much she loved him, but feared embarrassing herself.
DAVIS: I did Ender's Game.  People are really excited about that one. Harrison Ford.  And I would stare at him all the time and my husband said, "You gotta stop doing that!  You gotta just talk to people!  I talk to people!  You don't talk to anybody!" And I said, "I know, but it's Harrison Ford!"  And he said, "I don't care!  Just talk to him!" But, I would just stare at him.  He said, "How you doing, Viola?  You know, I would have flown you out here with your daughter, when your daughter was sick.  You could have just asked me."  And I thought, "I could have?!" And then, he'd tell really racy jokes, and I would think, "Harrison Ford is telling me a joke!"  And then, I'd forget to laugh!  He's awesome!
Davis also mentions director Gavin Hood, who she says is tough and specific and directed one of her top three greatest foreign films of all time, Tsotsi.
What a moving story.  And once again, it's relevant.  It's about training these young kids to be soldiers and to kill, and what are the after effects of that?  It's wonderful.  
Source: Collider