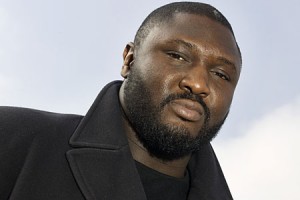 Nonso Anozie spoke recently with Ebony Magazine about his role as Sergeant Dap in Ender's Game.
Anozie joked about how he thought the on-set location in New Orleans, Louisiana was hot, but was apparently a breeze compared to Morocco, where he is currently filming Genesis to Revelations for the History Channel (he plays Samson).
When asked about what it was like to film with Viola Davis, he revealed that he has no scenes with Davis (Major Gwen Anderson) in the movie. "But I'd come to set on my off days to watch because I enjoy all facets of movie making." said Anozie. "We'd talk offset."
As for Harrison Ford, the actor says he was invited to fly to Los Angeles with Ford on his private plane. "He's really down to earth and we got to know each other quite well." He also mentions that he and Sir Ben Kingsley have been friends from working on another movie together in the past.
As for his role as Dap and how he got the part, Anozie says it was one of the most surprising parts about the film for him, "Originally, it wasn't written for a Black man, Sergeant Dap is a white guy in the book. But the casting staff liked me so much that I got the part."
"Ender's Game was a great movie and I'm looking forward to the world seeing it." We're certainly looking forward to it as well!
Ender's Game will be released in theaters November 1, 2013.
Source: Ebony Magazine