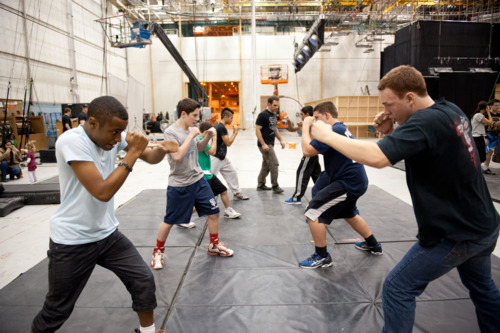 This week's production blog photo shows the stars of Ender's Game in training on the set of the movie.
You think your school was clique-ish?  In Battle School, you are part of an army, each represented by its own iconic symbol.  Lately, Dragon Army has come to be known as a repository of misfits and failures.  As a member of this unit, you're supposed to live, breathe (fire?) and fight as one cohesive and selfless unit.  Success as one.  Defeat as one.  Unfortunately for Dragon Army, their reputation is the latter.

Ender will be tasked with restoring this tarnished symbol.  Will they follow him?
What I want to know is, do they have to follow gray orange gray lights on the floor to get back to their hotel? 😉
Source: Ender's Game Blog