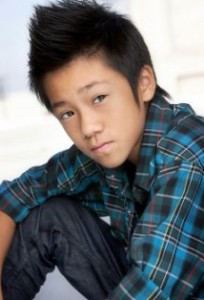 According to a cast list on IMDB, 16 year old Brandon Soo Hoo will be taking on the role of Fly Molo, one of Ender's toon leaders in Dragon Army.
IMDB can be edited by the general public with a paid membership, so casting on the site isn't always reliable when it hasn't been confirmed elsewhere, so this is still unconfirmed. In the books, Fly Molo was supposed to be of Filipino descent, so it's possible that the casting information simply has him named as the wrong character and he's to play Han Tzu (Hot Soup) instead, another toon leader.
A skilled martial artist of Chinese descent, Soo Hoo has done work on G.I. Joe: The Rise of Cobra
and Tropic Thunder
. He holds a black belt in Tae Kwon Do.
What do you think? Has he been mislabeled as Fly Molo or have the writers merged Fly Molo and Han Tzu into one character?
Update: Brandon Soo Hoo will in fact be playing Fly Molo in Ender's Game.
Source: IMDB