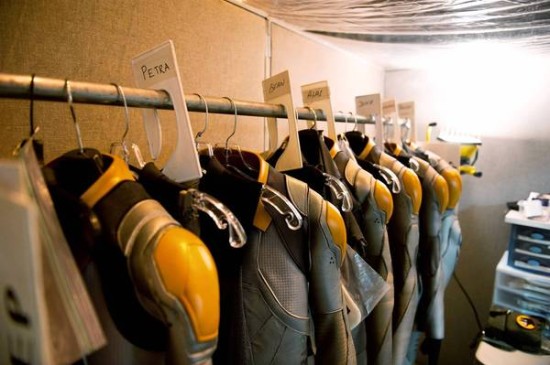 The LA Times interviewed Ender's Game costume designer Christine Bieselin-Clark and talked to her about the construction of the flash suits and the helmets.
Bieselin Clark designed the helmets in three parts connected by strong magnets: the main helmet, the mandible that comes around the front of the chin, and the visor. "We knew that we might get into a place where that visor and the reflections would be compromising for filming," she said. "So that visor could come away if we needed it to not be in the shot. It's very cool. They also had to be light enough. And we had to put little fans in them so people could breathe."

Since the film is set in the future, no present-day fabric felt quite right. "The predominant fabric in the Flash Suit is one that we made," Bieselin Clark said. Using spandex or leather as a base fabric, she layered other fabrics on top using glue, solvents and heat-fusible webbings and overlaid these with thin laminates. "It was like a crazy science experiment to combine certain ingredients to make specific fabrics for specific places on the suit," she said. "[We also did] screen printing with rubberized inks in different colors to create surface texture."

To construct the helmets, Bieselin Clark and her team took a digital scan of each actor and fed it into a computer program, which overlaid the helmet design onto the scanned head shape. They then created an output of that by using a rapid prototyping machine that lays down thin layers of resin and shapes them with lasers. "So you're basically growing with lasers a part that perfectly fits the head of the person you've scanned," Bieselin Clark said. "It's super crazy."
They also talk to Christine about how she got into the business. You can read the full interview at the LA Times and also visit her website at www.christineclarkdesign.com.