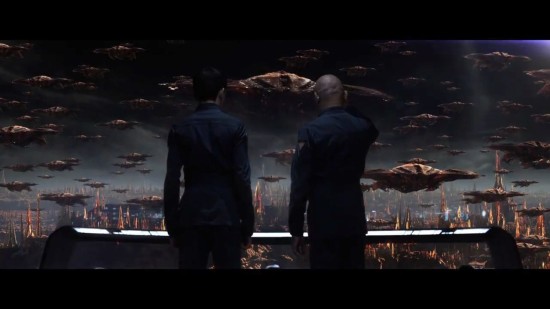 Ender's Game launched the International Fleet's forces last night on All Hallow's Eve and Variety is reporting a solid $1.4M in the box office, placing it third for the night behind Gravity at $1.6M and Bad Grandpa at $1.4M.
Paramount's "Bad Grandpa" posted a similar late-night launch of $1.4 million a week ago and has topped $40 million in its first week. "Gravity" also took in $1.4 million from its first late-night shows while "Oblivion" and "After Earth" both grossed $1 million in their respective preview shows;  "Pacific Rim" grossed an impressive $3.6 million in previews while "Carrie" took in  $725,000.
I actually find it encouraging and impressive that Ender's Game is doing better on its Thursday than Oblivion, even though Oblivion didn't impress at the box office much domestically in the end. I wasn't sure how Halloween would affect things since teens and parents alike would presumably be busy spending time with friends and family doing Halloween activities rather than going to see the movie. We'll just have to wait and see how the movie does over the coming weekend!
If you saw the movie last night and are feeling a mixture of emotions ranging from disappointed to thrilled, be sure to go see Ender's Game again. Despite the common complaint that the film is terribly paced, you may just find that a second viewing will let you enjoy the film for what it is. Happy NovEnder 1st!