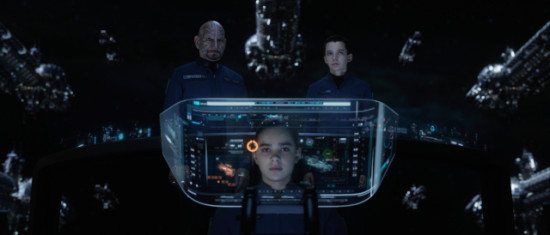 Variety is reporting that Ender's Game is currently on track for a $27 million dollar debut in the United States, which is disappointing to say the least when it comes to a film that had a $110M budget excluding marketing costs.
However, the article does go on to say that all might not be lost.
But word of mouth on the Gavin Hood-directed film has been decent ("It's surprisingly solid," one source says), while an overseas boost for the sci-fi movie could keep the "Ender's Game" franchise alive for further installments. There are 12 novels in the "Ender's Game" series as well as short stories and comics.
It's tough to say at this point what will happen. November does kick off the holiday movie season, but Ender's Game is definitely hurt by strong releases later in November including Thor: The Dark World and The Hunger Games: Catching Fire. With Gravity still pulling in great numbers, audiences could potentially turn to Ender's Game to continue their fixation with space and zero-gravity.
What do you think, Launchies? Will audiences give Ender Wiggin a shot or will the box office numbers be down, just like the enemy's gate?