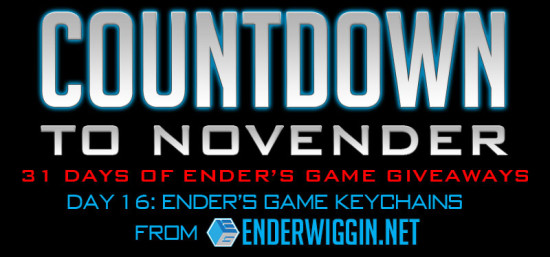 Ho, Launchies! Sorry I forgot to post this one yesterday, but it was just so crazy! For Day 16, we've got some Ender's Game keychains to give away. These keychains are homemade by me, just like the ones I gave away at Comic Con. I use a Dragon Army one on my own keys! We're giving out two of these today. (for yesterday)
This giveaway is open to the US only.
How to Enter
Each day, check the Rafflecopter widget for the various ways you can enter and make sure you are eligible. After you complete each task, you must log in your entry in the widget or it will not count. We've put in a wide variety of methods for you to enter and for some you can enter once every day of the giveaway. If you already like or follow, simply log in your entry and you're done!
You MUST leave an email address that you check frequently so that you can claim your prize within 72 hours of receiving an email from EnderWiggin.net. Please DO NOT comment with your email address in your comment.
For today's comment, simply tell me what you hope to see in the next TV spot.