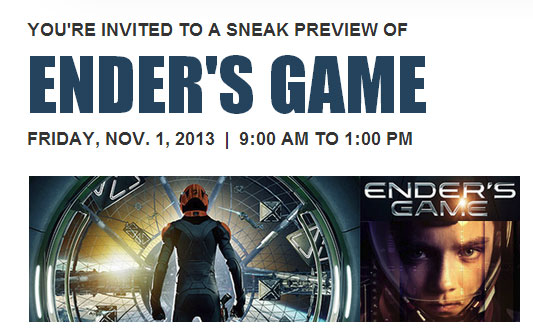 IT companies Cisco, Citrix, Intel, and Nimble Storage have joined together to sponsor a special free screening for IT professionals (limit two per company) in 31 cities across the US and Canada on November 1, 2013.
The cities include:
Albany – NY
Austin – TX
Baton Rouge – LA
Bellevue/Seattle – WA
Bloomington – MN
Boston – MA
Calgary – AB
Cincinnati – OH
Denver – CO
Hollywood – FL
Milwaukee – WI
New York City – NY
Oakbrook – IL
Oklahoma City – OK
Overland Park – KS
Philadelphia – PA
Phoenix – AZ
Raleigh – NC
Reston – VA
Richardson – TX
Richmond – VA
Salt Lake City – UT
San Diego – CA
San Francisco – CA
San Jose – CA
Los Angeles – CA
St. Louis – MO
Tampa – FL
Toronto – ON
Tulsa – OK
Vancouver – BC
The screenings will be held at 9 AM. A corporate email address is required for entry and presumably tickets are on a first-come, first-serve basis and are limited to two people per company. Register here.