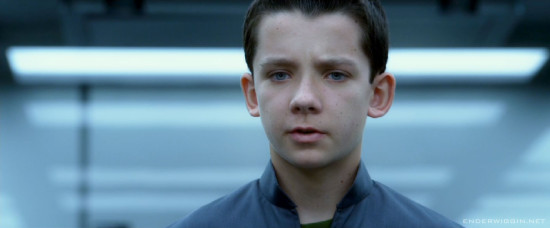 EnderWiggin.net is very happy to be one of the Ender's Game fansites to exclusively debut the very first clip from Ender's Game, now 27 days from release in the United States.
Watch below in the clip titled 'Ender's Army' as Colonel Hyrum Graff of the International Fleet's Battle School discusses with esteemed student Ender Wiggin his impressive record at the school and what's in store for someone who is both excelling and struggling under Commander Bonzo Madrid of Salamander Army.
What do you guys think of the clip? I loved that they included the bit about the uniforms, which is pretty close to the scene in the book!
"I've never heard of Dragon Army," Ender said.

"That's because there hasn't been a Dragon Army in four years. We discontinued the name because there was a superstition about it. No Dragon Army in the history of the Battle School ever won even a third of its games. It got to be a joke."

"Well, why are you reviving it now?"

"We had a lot of extra uniforms to use up."
For some reason I also loved the hum in the background, lending to the fact that they're in space. I also cracked up that Graff seems to slouch. Perhaps that's their substitute for the big belly?
Listen to EnderCast Episode 33.5 below to hear Kelly and I watching the clip for the first time!
Ender's Game is in theaters November 1st.