Today is October 1st, which means we're now officially only 31 days from November 1st and the release of Ender's Game in the United States. To celebrate this momentous occasion, EnderWiggin.net is kicking off a massive series of contests and giveaways: one a day until the release of Ender's Game with October 31st showcasing a massive prize pack that will make you the envy of any Ender's Game fan!
Not all of these giveaways will be open worldwide, so please read the rules carefully each day!
Today's giveaway is for a custom name badge just like the one I wore at Comic Con, sponsored by the lovely ladies of AlphaEngravers on Etsy. This badge will make the perfect accent for your Ender's Game Battle School or Command School costume!
For comparison, here's a look at what they look like in the movie: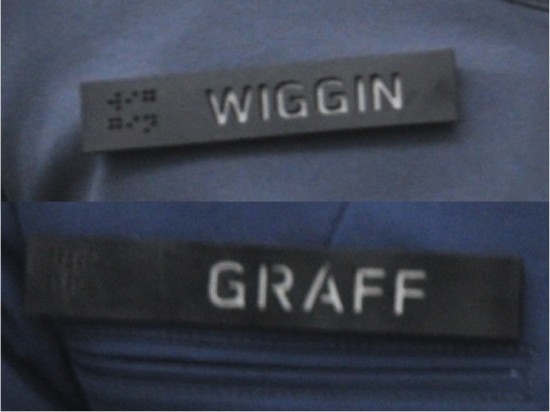 The tags in the film have debossed Braille and the awesome folks at AlphaEngravers say they should be able to deboss the Braille. My tag is simply embossed because I didn't know any better.
Today's giveaway is open worldwide. Some restrictions may apply in regards to # of characters allowed.
How to Enter
Each day, check the Rafflecopter widget for the various ways you can enter and make sure you are eligible. After you complete each task, you must log in your entry in the widget or it will not count. We've put in a wide variety of methods for you to enter and for some you can enter once every day of the giveaway.
You MUST leave an email address that you check frequently so that you can claim your prize within 72 hours. Please DO NOT comment with your email address in your comment.
To enter today's giveaway, comment below and tell us what army you'd make your costume for! Is it Dragon? Salamander? Asp? There's also Rat, Phoenix, Leopard, Condor, and Centipede!